A spiritual successor to the original Maniac Mansion? Where do I sign up?! …oh right, Kickstarter.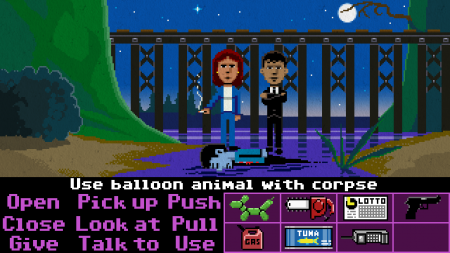 I know what you're thinking, Maniac Mansion (one of the first and greatest point and click adventure games of all time, and no, that's not up for debate) already does have a sequel. And you're right, it does. The equally excellent Day of the Tentacle was released a long while ago and also stands as a titan of the genre. Here's the thing though, it has a nearly completely different 'feel' to than Maniac Mansion does, and this new game from creators Ron Gilbert and Gary Winnick is seeking to capture the vibe of the former.
As a mega-fan of the original (though I liked the sequel as well), I'm pretty excited. And while Thimbleweed Park isn't directly related to MM at all, it looks and plays exactly like it. Seeing it in action it kind of like going back in time or, as the press release describes it, like "stumbling across a long-lost, LucasArts-style adventure game".
The PC game is currently posted on crowd-funding site Kickstarter, where it's already gathered over $171k of it's end goal, which sits at $375,000 USD. Seems like fans really, really want another adventure game from the Winnick and Gilbert.
If you'd like to get in on the backing fun for Thimbleweed Park, click here to head to the Kickstarter page for the proposed game.