A short time ago we got to play around with Nintendo's Amiibo figures ahead of the official launch later this week. Here's what we thought.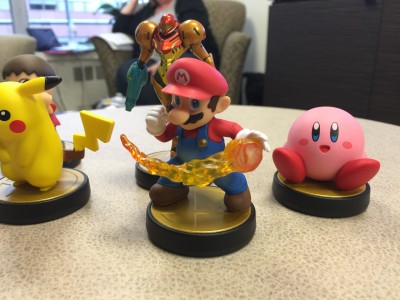 Without a doubt, I'm pretty sure that I count as a 'veteran' of the toys-to-life genre that was kicked off by Activision's Skylanders series a few years back. Not only have I played every Skylanders and Disney Infinity (the first game to expand the genre past Skylanders) title to date, but I've collected a good number of the figures and even have a massive vertical case full of Skyland's best hanging from the back of my media closet's door.
There's a lot that I like about where the genre has been, and honestly, a lot that I don't care all that much for. While Skylanders has made a habit of releasing excellently visualized platformers to accompany their figures, Disney has gone a completely different route and offered gamers more of a sandbox. Both tacts are viable to differing degrees, but Nintendo has gone one step further with their new toys-to-life figures, the Amiibo line.
Amiibo aren't confined to one specific game (or platform), but can be actively shared between titles on Nintendo's Wii U and eventually, the 3DS. The catch is that each game interacts with each figure differently, with some games only interacting with specific figures, like Hyrule Warriors only playing nice with Link.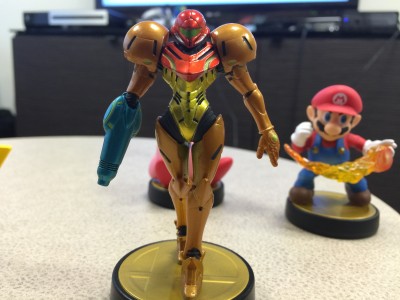 It's an interesting idea, and probably one that only a company like Nintendo, with their massive catalog of super-popular first-party properties, could pull off correctly. So far anyway, it seems like they've got a solid game plan and know where they're headed. And the figures themselves are all kinds of cool too.
I don't know why anyone would expect any less from the Big N, but the Amiibo are really well sculpted (I asked, but couldn't get an answer on who did the work) and feature some of the cooler 'special effects' that I've seen on toys like these.
Mario is probably the coolest as he has an awesome, semi-translucent fireball that he's ready to launch. Samus is a close second with an incredibly neat, metallic paint scheme (and dynamite sculpt), but all of them have their plusses, even the 'simpler figures like Kirby and Pikachu.
The Amiibo have a great heft to them as well. No, they're not heavy in any way, but they feel solid and like they're something special, not a cheap toy that you picked up for a quarter out of a gumball machine. I've heard that some of the poses weren't all that great, but they're really not that bad.
It's true that Link is looking down as he's leaping and striking, and that Mario's cap covers his eyes in darkness, but these features don't really take away all that much from the figures themselves to be completely honest.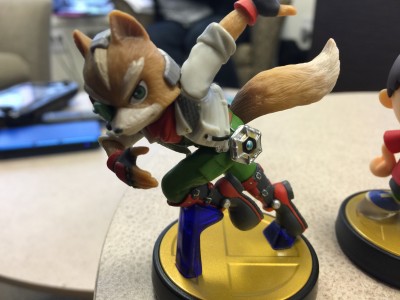 As for the interactivity, well the first round of games that'll be Amiibo capable run the gamut from in terms of whether the figures are actually worth it or not. Since there's no cohesive experience here and there are a series of games that connect to the figures instead of just one, it's a little touch and go.
Hyrule Warriors has very limited accessibility and can only connect to the Link figure, where the game unlocks a special weapon for your trouble. Same for Mario Kart 8 really, except it isn't just limited to Link. On the other side of things though, you've got Super Smash Bros, and a game that truly takes the Amiibo torch and runs with it. And I have a feeling that this is more what Nintendo has in mind for the series.
Using the game, you can train and outfit the Amiibo figure of your choice, as you see fit. So if you want to alter his or her in-game costume or even tailor attacks, you can. You can also train your Amiibo to be a better fighter and actually fight with and against you in the game. Nintendo also says that they envision gamers taking their Amiibo along with them to friend's houses to have their little plastic buddies settle it in Smash.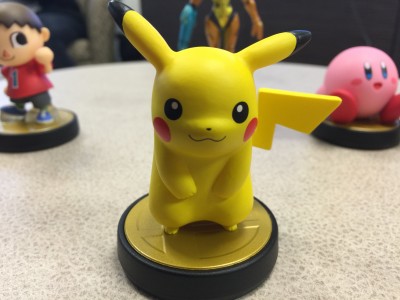 So if all the other first round games are a little her and there on the Amiibo, Super Smash Bros should settle for prospective buyers that Nintendo does indeed seem to have a firm grasp on what they'd like to do with the toys in the future and where they'd like to see them go in terms of interactivity with Nintendo games.
While I only got the opportunity to play around with a handful of them, there are tons of characters on the way. Wave one, which launches this Friday, consists of Mario, Peach, Yoshi, Donkey Kong, Link, Fox, Samus, Wii Fit Trainer, Villager, Pikachu, Kirby and Marth. Wave two will be along some time next month and will be made up of Zelda, Luigi, Diddy Kong, Little Mac, Pit and Captain Falcon. Past all of them, there are even more set for release with a third and fourth wave of figures already confirmed.
So the point that I'm making here is that Nintendo doesn't have designs on Amiibo being a temporary product, at least, it sure doesn't seem that way. And with Super Smash Bros being the first real game to take advantage, it certainly seems like the figure line is off to a solid start.