Justice League kicks off the 'Amazo Virus' arc, Spider-Man meets his Superior alternate, and Dark Horse Comics begins a couple of can't miss video game art tomes to retail this week.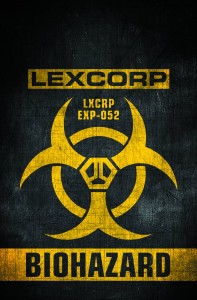 Oh my is there a lot to like this week in comic book stores. First of which is a massive arc kicking off that involves the Justice League over at DC Comics. If you're a fan of the League, or any of the heroes that make it up, then you don't want to miss the beginning of the Amazo Virus event. Certainly looking like it has a link to Lex Luthor's LexCorp, the virus dubbed Amazo is set to rip through the DCU, with some special effects on the Dark Knight himself.
Other than that one, Marvel's Spider-Verse crossover kicks things up a notch or two by introducing Peter Parker to none other than the Superior Spider-Man, Otto Octavius (sort of). With all the Spider-Men and Women from across Marvel's multiverse meeting to take on uber-baddie Morlun, a leader has to be chosen and Otto wants to be him. If you think Spidey (the actual Spidey) likes that idea then you don't know Pete.
And if you're a fan of the Dishonored and Dragon Age video games, then you're going to want in on the pair of new art books from Dark Horse Comics. The publisher has both on the way for this Wednesday, and if you're familiar with their series of similar books, then you know these are can't miss tomes.
Here's my picks of the week:
Marvel Comics
Amazing Spider-Man #10
Fantastic Four #13 – The original blue costumes make a comeback in this issue. and if Rumors of it's impending 2015 cancellation are true, then you might want to start reading now.
DC Comics
Justice League #36
New 52 Future's End #29 – The story is centered on fan favorite Firestorm. For that alone, I recommend picking this one up.
Green Lantern New Guardians #36 – GodHead continues as High Father gets his hands on the Life Equation.
Wonder Woman #36 – The brand new creative team of Meredith and David Finch come on board with a new arc and a few guest appearances.
Dark Horse Comics
Dishonored: The Dunwall Archives
Art of Dragon Age Inquisition
Predator: Fire And Stone #2 – The Aliens/Predator/Prometheus crossover continues.
BPRD Hell On Earth #125 – Simply put, this continues to be one of the best books on the racks month after month.
IDW
So those are my suggestions, lots to like for fans of just about every kind of book, including those excellent art books from Dark Horse, which I really can't recommend enough. I haven't read them yet, but the company's books have been so great historically, that's it's pretty heard to think they'll be anything but great. Everything above hits stores this Wednesday, November 19th. If you'd like a full list of what's coming up, click here for comic shop magazine Previews' website.