The classic TV show gets a 10th season in comic book form in this collection, bringing the first 6 'episodes' together in once book.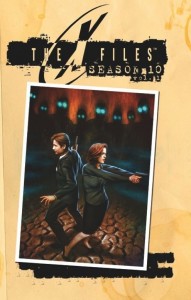 Was pretty much everyone a massive X-Files fan back in the '90s? I know I was, as the show from the mind of Chris Carter played into pretty much every major conspiracy theory and urban legend known to man. Some of the episodes contained within the 9 season run of the show were downright classics of the genre too, with pretty much all of the so-called 'mythology' episodes falling into that category.
If you don't know, the mythology episodes were all of the alien-themed adventures that FBI special agents Fox Mulder and Dana Scully found themselves embroiled in. This was the real plot of the show and the glue that really held the show together in what was otherwise a 'monster of the week' series. Don't get me wrong, those monster episodes could be pretty great too, but it was the conspiracy, the deep black stuff, that really made the show shine- and was one of the main reasons that The X-Files was as rampantly popular as it was.
So with that I'm mind, I'm thrilled at what publisher IDW has done here with The X-Files Season 10. This 10th season of the show brings back a whole bunch of the most popular characters from show and continues on with the narrative as though the program had never ended. Forwarding time, the comic runs in a contemporary time period and doesn't pick up right where the show left off. Instead, it's been years since Mulder and Scully have left the FBI behind and they're both living a quiet and very non-adventurous life in anonymity.
This is an existence that's shattered early in the story, as you just can't have seen as much as the agents courageous have and be left alone by… certain parties. Multiple old adversaries come calling on both Mulder and Scully, as well as friends like their former boss Walter Skinner and some surprise guests, some of whom you might have thought were no longer with us if you watched the last few seasons of the show.
All in all, this is a real treat for the devoted and sows off the best of the best when it comes to The X-Files. It's kind of like a who's who and comes off as a perfect intro for all the various sub-plots and characters that make up this unique universe, which isn't all the different than our own; a fact that only adds to the charm of the show/comic and makes it part of why it works so well.
Joe Harris is the writer on duty for all six issues and does a bang-up job. He not only gets the universe that the show embodies, but (maybe more importantly) he gets the characters. Mulder acts like Mulder and I swear I could almost hear the semi-monotone delivery of actor David Duchovny as I read through. And the same goes for the rest of the cast too. It's very easy, especially for a fan, to hear the various actors here since it's all so true to the show. The story itself would be classified as a mythology episode, though one that's different that you might remember and adds in plentiful new elements- all of them work well though and expand upon, instead of replace, the history that's already been established.
Taking up the pencils for the book is artist Michael Walsh. His work is incredibly reminiscent of the 'classic' X-Files comics from Topps Publishing back in the 1990s (which IDW is republishing by the way) and that's a very good thing as those books hit the nail on the head in terms of feel and tone. Walsh's work here is the same, striking a chord that's both in line with the shoe and older comic series. It's mature and not at all what you think of when you think 'comic book', which is great for this style of story.
As this is a graphic novel collection, you might expect there to be a few little add-ons too, and there are some represented here. Covers and story recaps appear throughout the book, and there's a nice section of artwork in the back. I'm not sure how much of an attraction to those that've been reading all along these additions are, but they're cool nonetheless. Also very nice index is the fact that this is a hardcover edition. I'm very used to only being abel to get softcovers of graphic novel collected editions, so for these X-Files to be presented in what's become a rare hardcover boo is a great plus, and looks spiffy on the old bookshelf.
Final Thoughts
As a big fan of the show myself,  I really wanted to like IDW's The X-Files. Even so though, I kind of figured I wouldn't since it's been so long since the show went off the air and the likelihood of a monthly series getting it right was probably slim to none. That's why I hadn't picked up a single issue before reading this graphic novel 'collection', though now I wish I had.
The series is off to an excellent start and has all the characters, themes, and plot lines that an X-Files fan could hope for- and as a bonus, it's all done as faithfully as you could hope for, right down to the 'time and place' stamps that appear on each chapter. This is one series not to be missed by anyone, not only fans, but those who like a good mystery/horror/sci-fi/high strangeness read. It's that good and that enjoyable. Now if you'll excuse me, I have to review volume 2, and I can't wait to see what happens next.