IDW's excellent X-Files extension rolls on into a second volume.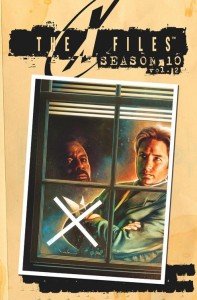 Volume 2 of The X-Files Season 10 kicks off with a decidedly sharp change of pace from the previous six issues that made up volume 1. Most notably, the familiar 'monster of the week' episodes make a return here as we get a more well-rounded look at the various case files that made up the show. And that's not to say that there aren't mythology (alien) themed tales here in this volume too, since there are, but when the first things you see is Flukeman, well, it kind of makes an impression.
Flukeman is, of course, one of the most memorable beasts to appear on the TV version of The X-Files. A mutant man/fluke worm, he (it?) appeared in one of  the earlier seasons and never made a return despite being a fan favorite character, a fact that the IDW series has reversed here. The story is just as good too, with even more of a horror tinge to it and some excellent artwork- and that's just the first 2 issues contained in this collection of issues 7 through 12 of the monthly book.
From there, we get back into some conspiracy stuff, the true lifeblood of The X-Files, as the newly reinstated agents Mulder and Scully meet some old friends (one of whom is both more and less than what he was) and generally get neck deep into more of what looks to be the overarching backstory that'll be driving this series. Things go back and forth though, unlike in volume 1, serving up another monster tale and even a sequel of sorts to Musings of a Cigarette Smoking Man, one of the best loved episodes from the show's run on TV.
Even though it's not the single narrative that the first volume of the series bound together though, volume 2 is a highly enjoyable read and one that series fans should once again not miss out on. IDW has seriously struck gold here with this one, and a good deal of that 'gold' has to be the result of the script by writer Joe Harris. Carrying over from those first 6 issues, Harris just 'gets' the universe that X-Files creator Chris Carter created with his show/movies and seems to pen winner after winner. Every issue is like a love letter to one of the greatest sci-fi/action narratives to appear on a TV with tons of details for die-hard fans to pick up on and just the right amount of humor and action to accentuate the mystery and more otherworldly aspects. To put it another way, the guy just plain knows the source material and adapts it flawlessly in new and interesting ways.
There's also a round table of artists this time around. In volume 1, artist Michael Walsh was featured throughout. This time around though, he's joined by the trio of Elena Casagrande, menton3, and Greg Scott. All of them do a great job with their individual tales and their styles are widely varied. Actually, you'll notice the difference not only in style, but in flavor as each art style shades the narrative extremely well. All of them are enjoyable too, with nary a clunker in the mix, making this series as much a pleasure to look at as it is to read.
If you like extra goodies in your graphic novels, you'll find a few here too. Continuing the same format as the first volume, the second book is presented in hardcover style (which is always a big plus to me) and contains each individual issue's cover illustration as well as a smattering of assorted art pieces in the back. Not a ton of stuff, but enough to have a few minutes of zen with when you're done withe the narrative.
Final Thoughts
If you're a fan of The X-Files and you haven't been reading this series (season 10) from publisher IDW, then you pretty much need to pick up Volumes 1 and 2. Both are exemplary examples of what an adaptation of a live-action entertainment property into the world of comic books should be and are musts for fans who miss the show about all the little (and not-so little) things that go bump in the night.
Pick up volume 2 if you enjoyed the first six issues of the book, and if you haven't read those, then you might want to fix that oversight as soon as possible.