Diamond Select has released a list of items for 2015 that includes Marvel, TMNT, Star Trek: The Next Generation… and a pile more licenses.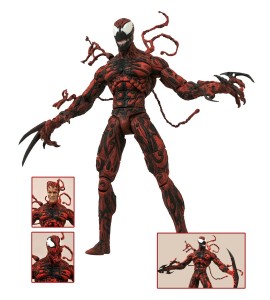 Now this is a big long list of stuff that I wouldn't mind owning. DST makes some of the best stuff out there whether you're talking action figures, or just neat little kitchy items like their series of ice cube trays that mold your favorite stuff into cubes for your drink. All of the stuff listed below will not be making an appearance till Springtime 2015 though, so try and keep the enthusiasm to a minimum for now and just quietly make your list of what you want.
Personal picks? That Marvel Select Carnage, the X-Men Minimates (X-Men vs Brotherhood!), the Lt. Worf figure from Star Trek Select, and the freakin' Flux Capacitor from Back to the Future. There just is no where near enough BttF stuff out there and there needs to be more. Fortunately enough, this one's pretty awesome.
Jay and Silent Bob's Super Groovy Bluntman and Chronic Mug
A Diamond Select Toys release! Getting ready for a long night of fighting crime in Leonardo, New Jersey? Fuel up on java before leaving home, using this decorative ceramic mug featuring Leonardo's ever-vigilant duo in the animated style of Jay and Silent Bob's Super Groovy Cartoon movie! The mug bears the face of Bluntman on one side and the face of Chronic on the other, so you can choose whose head to drink out of. Plus, their names are on the handle! Comes packaged in a full-color box. (Item #NOV142186, SRP: $14.99)

Marvel Avengers Logo Silicone Tray
A Diamond Select Release! Avengers assemble… for refreshments! With this 4″ by 6″ silicone tray, you can cast up ice, gelatin and chocolate in the shape of the famous Avengers logo. Your delicious concoctions may not be able to save snack time from the forces of evil, but they'll sure as heck avenge it! Packaged in a full-color window box. (Item #NOV142180, SRP: $14.99)

Batman Classic TV Series The Joker Vinyl Bust Bank
A Diamond Select Release! The clown prince of crime is now his own worst enemy! With its ability to store your pocket change, this 8″ vinyl bank of The Joker is the perfect target for The Joker, who loves himself even more than he loves money. Based on the likeness of Cesar Romero as he appeared in the Batman Classic TV Series, this vinyl bust bank has a coin slot on his back and an access door in his base. Packaged in a clear polybag. Sculpted by Jean St. Jean!  (Item #NOV142177, SRP: $22.99)

Godzilla Classic Mechagodzilla Vinyl Figural Bank
A Diamond Select Release! Godzilla's greatest foe is launching his attack! A cybernetic copy of Godzilla with superior firepower, this vinyl figural bank of Mechagodzilla is based on how the robotic kaiju appeared in 1974's Godzilla vs. Mechagodzilla. Standing 12 inches tall, the bank features a coin slot in his back, as well as a removable head for coin retrieval. Sculpted by Gentle Giant Studios!  (Item #NOV142176, SRP: $29.99

Marvel Deadpool Silicone Tray
A Diamond Select Release! Eat me! That's what your snack will be screaming at you once you cast up an assortment of chocolate, ice cubes and gelatin (not tacos) in the shape of the Merc with a Mouth, Deadpool! It's easy to crack wise when you add Deadpool to your diet, and this 4″ by 6″ silicone tray lets you put Deadpool where your mouth is! Deadpool! Packaged in a full-color window box. (Item #NOV142175, SRP: $14.99)

Marvel Minimates Series 60 X-Men Vs. Brotherhood Asst.
A Diamond Select Release! Some of the X-Men's most memorable costumes and memorable foes return in this all-new assortment of Marvel Minimates! Exclusively available through Previews, this assortment has the X-Men's Strike Force team (as seen in Uncanny X-Men #275) take on that era's Brotherhood of Mutants, a.k.a. Freedom Force! Plus each two pack of 2-inch Minimates includes bonus parts to create an alternate X-Men character! The two-packs include Wolverine (with Forge parts) vs. Blob, Banshee (with Gambit parts) vs. Pyro, Storm (with Psylocke parts) vs. Avalanche, and a short-packed, one-per-case two-pack of Jubilee vs. Destiny! Each two-pack is packaged in a full-color window box. Designed by Art Asylum!  (Item #NOV142181, SRP: $9.99/two-pack)

Pathfinder Goblin Vinyl Figure Bank
A Diamond Select Toys release! Most goblin banks are pretty dull affairs, with lots of writing in books. But this goblin bank carries a knife! The Goblins of Golarion can be vicious and nasty, prone to violence and greedy beyond measure. So what better way to keep your money safe than inside one? This Goblin also carries a giant die, to show people how much you love the game Pathfinder, and to remind you to save some money for the next campaign. (Item #NOV142182, SRP: $29.99)

Pulp Fiction 20th Ann. Minimates Bonnie Situation Box Set
A Diamond Select Toys release! You've got a dead body in your car, you're covered with blood, you're hiding out at your friend's house, and his wife is on the way home. What do you do? You call the Wolf! Re-creating the famous storyline form Quentin Tarantino's groundbreaking film Pulp Fiction, the "Bonnie Situation"  Minimates Box Set includes Minimates mini-figures of Bloody Jules, Bloody Vince, The Wolf, and Jimmie. Each 2-inch Minimate features various interchangeable parts and accessories, including guns and coffee mugs. Packaged in a full-color blister card. Designed by Art Asylum! (Item #NOV142183, SRP: $19.99)

Sin City Movie Marv Resin Bust
A Diamond Select Toys release! Sin City is no place for the soft or weak. Luckily, Marv is as hard as they come! We made this collectible 6″ bust of Marv out of high-quality resin, so he and his gun Gladys will blend into your bust collection, no matter how tough a crowd it is. Set into a rocky base, he'll stand guard on your shelf. your desk or even the bar at Kadie's Club Pecos! Sculpted by Jean St. Jean. Limited to 1,000 pieces. Comes packaged in a full-color box. (Item #NOV142178, SRP: $59.99)

Star Trek Select TNG Lt. Worf Action Figure
A Diamond Select Toys release! Today is a good day for a new Star Trek Select action figure! The next Star Trek action figure release from DST is the Enterprise's Chief Security Officer, Lt. Worf. The Klingon officer, who would later transfer to Deep Space Nine, comes with extra arms, weapons and hairstyles, to customize him in a variety of iconic poses, as well as a diorama base that is compatible with the previous Star Trek Select release, Captain Jean-Luc Picard! Comes packaged in display-ready Select packaging, with spine artwork for shelf reference. (Item #NOV142174, SRP: $24.99)

Teenage Mutant Ninja Turtles Silicone Tray
A Diamond Select Toys release! Not since the TMNT met Vanilla Ice have they been this cool! This 4″ x 6″ silicone tray allows you to cast up ice cubes, gelatin and even chocolate in the shape of the four turtles, as well as the Ninja Turtles logo! Turn any Pizza Party into a Turtle Takeover! The perfect companion to DST's TMNT bottle opener and pizza cutter! Comes packaged in a full-color window box. (Item #NOV142184, SRP: $14.99)

Universal Monsters Invisible Man Lion's Head Inn Pint Glass
A Diamond Select Toys release! Feeling invisible at your job? Want to get away from the crowds? Why not book a room at the luxurious Lion's Head Inn, in the scenic village of Iping? Inspired by the 1933 film The Invisible Man, this pint glass bears the Lion's Head Inn logo, and will serve as a lasting memento of that time you hung out the "Do Not Disturb" sign and tinkered with the forces of nature. Comes packaged in a window box. (Item #NOV142185, SRP: $10.99)

Marvel Select Carnage Action Figure
A Diamond Select Toys release! DST's Classic Venom action figure was a hit with collectors, and now DST is going for a repeat! The Carnage action figure has a new, detailed sculpt by Venom sculptor Jean St. Jean, and features 16 points of articulation as well as a variety of interchangeable parts and accessories. Three interchangeable heads, regular hands, weapon hands and removable tendrils allow you to customize your figure's appearance however you wish! Comes packaged on a full-color Select blister card with spine artwork for shelf display.(Item #NOV142179, SRP: $24.99)

Back to the Future Flux Capacitor Replica
A Diamond Select Release! It's back in time! Our sold-out Flux Capacitor Replica makes its triumphant return with this new run of the screen-accurate Back to the Future Trilogy prop! Measuring in at 16″ tall by 11″ wide, this electronic Flux Capacitor features the same attention to detail and sturdy construction as previous editions, but with an improved, film-accurate lighting design (no strobe light) taken directly from the Back to the Future feature films! DISCLAIMER: Does not make time travel possible. (Item #OCT088076, SRP: $395.00)