A brand new miniseries from the mind of Hellboy creator Mike Mignola is set for debut in 2015 from Dark Horse Comics.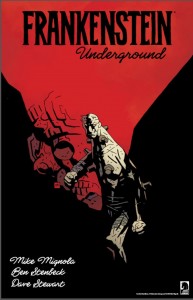 Before we go any further, this is no one-off tale, but instead is the Frankenstein's Monster that has already appeared in the Hellboy-verse. And this miniseries takes place fully within the confines of Mignola's super popular horror/sci-fi universe.
A huge fan of the monster himself, Mignola is more than a little excited to give him a starring role too, though he might be just a tad intimidated.
"It's intimidating as hell to take on an icon like the Frankenstein monster," said Mignola. "I'm trying to do something that's true to the origin Mary Shelley created for the creature but also captures a bit of the feel that Boris Karloff brought to the role in the classic Universal films. At the same time I'm throwing the monster into an entirely new environment, so I think the result will be something new. It's an odd one, but ultimately will add an important new wrinkle to the Hellboy/B.P.R.D. world."
Seems like a match made in heaven, no? Frankenstein is hardly out there on his own as well, as Dark Horse is promising plenty of interaction between him and some of the other denizens of the Mignolaverse as the mini rolls on.
"This version of the Frankenstein monster has the same thirst for knowledge readers will remember from Mary Shelley's novel," said Scott Allie, Dark Horse Comics' editor in chief. "The monster takes the reader through some of the biggest mysteries of the Mignolaverse, shedding new light on important stuff we've only touched on before."
If you're looking for more on the new series right now, you can click here to check out an exclusive interview Mignola gave to MTV on the subject. As for the launch, you'll have to wait for sometime next year for that, though there's no solid date as of yet.