Ubisoft has announced new DLC for Watch_Dogs, titled "Bad Blood." In this DLC, players will take the role of T-Bone, one of the few of Aiden's friends/enemies/frienemies. The new DLC will be available for purchase on September 30 while season pass owners will get access a week earlier on September 23.
"Bad Blood" will continue with T-Bone's story after the end of Watch_Dogs. T-Bone hacks his way through Chicago in an attempt to rescue a dear old friend. Along with a new side mission called
"Street Sweeps," Bad Blood contains 10 new missions for T-Bone.
Street Sweep missions are another way for T-Bone to earn new gadgets and notoriety.  These Co-op missions have T-Bone and a partner cleaning up the streets of Chicago. Players will work together to eliminate gangs, blow stuff up and protect witnesses from assassination attempts. These new missions offer a new and exciting way to get back into the world of Watch_Dogs.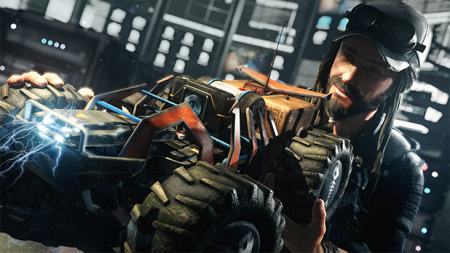 One more new element to the game is T-Bone's new partner, Eugene. Eugene is a small remote-controlled car equipped with a bunch of fancy gadgets. T-Bone can use Eugene during missions to sneak around and distract guards. T-Bone is going to need all the armament he can get as ctOS has had a couple of upgrades as well. Security cameras have been upgraded and now come armed with machine guns.
It is nice to see such an extensive DLC package for Watch_Dogs. T-Bone is a great character and it was a natural progression that this DLC feature the hacker with a craving for explosions. This is going to be a fun addition to the already huge world of Watch_Dogs and I for one cannot wait.