Strange name, but an amazing looking debut figure for Mezco's newest toy line.
Put simply, the One:12 Collective line combines all the trappings of a 12″ collectable figure, with the form factor of a 6″ toy. What you end up with is spectacular looking and pretty easily one of the most detailed action figures on the market today.
Not just all looks either, the One:12 Collective series sports 32 points of articulation and each figure will be capable of some 40,000 different poses. Mezco is also promising that these toys will be usable as just that too- toys. Not only will they look great on the shelf or desk, but kids (or adults) can actually play with them too and they'll be able to hold up. That's a rarity these days.
Much like with the sculpting, each figure in what's to be the ongoing series of toys will come complete with clothing that's made with an eye towards detail. Mezco says that costumes will be tailored using the "highest standard of outfitting and drapery" and that accessories will be designed to have a 'real world' look them to assure maximum realism, all of which is perfectly represented in the first offering from the series, Batman from the Dark Knight Returns.
Mezco president Mez Markowitz explains:
"We are all very excited with the One:12 Collective line. I think we are offering a fantastic product that both satisfies the customers desire for articulation as well as the ability to hide it all in a extremely realistic way. Another great aspect to the line is that we are striving to present high quality product that is in line with 1/6th scale (12″ figure) collectables while taking up far less display space and at a much more reasonable price point. Our Dark Knight Returns Batman figure is really a fantastic piece and we cannot wait to show what is up next. Mezco plans on releasing several items a year from this line and it is a long term initiative for our team, really a dream come true for all of us here."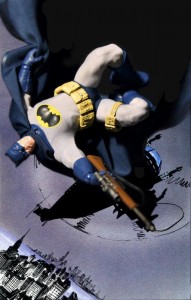 The Batman will be making his debut at the SDCC this coming week and will ship to retailers by this Fall, so just a few weeks from now. The line will eventually include more DC Comics characters, as well as Judge Dredd, the classic Universal Pictures monster lineup and some more 'surprises' that have yet to be announced.