Based on the first appearance of the jade giant, Savage Hulk is Diamond Select Toys' newest Marvel Select timed exclusive for Marvelshop.com.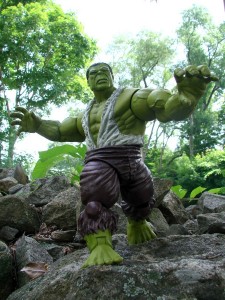 DST has been pumping these out lately with really terrific Amazing Spider-Man 2 and Captain America: The Winter Soldier figures, and they've really been hitting it out of the park with them. The latest, Savage Hulk, is based on the first appearance of the character from way back in 1962, and the artwork that spawned a misunderstood monster-turned-hero that would last all the way into the modern age.
The new figure was sculpted by the talented Gabriel Marquez, who has crafted Hulk figures (among others) for the company in the past. Standing in at "approximately" 9 3/4″ inches tall  and with 14 points of articulation, this is one plastic incarnation of Marvel's behemoth that you'll definitely want to check out.
Scheduled to be a Marvelshop.com exclusive item till July 7th, the big guy will also land at DisneyStore.com thereafter and will begin to appear in brick and mortar Disney Stores as well.