As Captain America: The Winter Soldier wraps up another week on top at the box office, DST is readying a special battle-damaged Stealth Suit version of Cap for MarvelStore.com.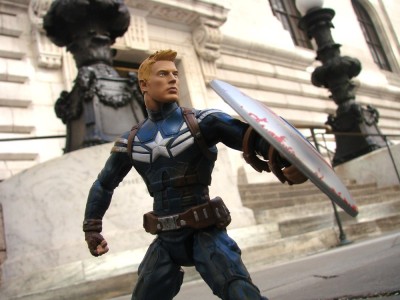 The Winter Soldier has been a runaway hit for Marvel Studios and Diamond Select Toys has been right there with some excellent additions to its Marvel Select line of action figures to compliment the feature film. This new version of Captain America, exclusive to MarvelStore.com, is cool in a whole bunch of ways that the previously released version isn't though.
For starters, he's got a special battle-damaged version of the 'stealth suit' he wears in the film. Past that, Steve sports two different head sculpts for a mask-on-mask-off effect and a shield that looks like it's been through the ringer. Which, if you've seen the film, it kind of has. If you're wondering about a base, Cap does come with one as most al the figures in the line do, and it's a section of a S.H.I.E.L.D. helicarrier as seen in the movie.
Cool stuff all-around on this one. The Marvel Select Unmasked Captain America from Diamond Select Toys will be available starting on May 19th at MarvelStore.com and at DisneyStore.com and in Disney Store brick-and-mortar locations starting after the 27th.