New York's newest mega-show is getting a marvelous dose of panel presentations from Marvel Comics.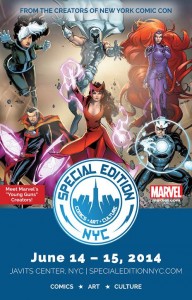 As comic con's go, Special Edition is a little bit different in this modern age in that there's really no movie or gaming talk on deck for the event. Everything is comic book related in one way or another, with the majority of the program being taken up by the medium that started the con craze- comics.
So with that in mind, most of the major publishers will be on hand and accounted for and Marvel Comics is no different. The super-pub will have a quartet of panels ready for the show as they chat up everything from the 'New Young Guns' to the 75th anniversary of the brand. Here's your lineup of what you can expect, complete with times and dates:
Saturday, June 14th

MARVEL: All-New Young Guns

Time: 12:15PM – 1:15PM EST

Location: Theater A – 1E19

Marvel's newest superstar illustrators – assembled on one stage! Originally launched in 2004, the Young Guns program has shined a spotlight on the best and brightest in the comic book industry early in their careers. Now, join Marvel's ALL-NEW YOUNG GUNS as they unveil exclusive imagery, explain their methods and influences, discuss how they got into the industry and more! The panel will include Editor Jeanine Schaefer as well as artists Mahmud Asrar (Wolverine and the X-Men), Nick Bradshaw (Guardians of the Galaxy), David Marquez (Miles Morales: Ultimate Spider-Man), Sara Pichelli (Guardians of the Galaxy), Valerio Schiti (New Avengers), and Ryan Stegman (Inhuman).

                                                                                                                                   

MARVEL: Next Big Thing

Time: 2:45PM – 3:45PM EST

Room: Theater A – 1E19

Want to start reading Marvel comics? There's no better time than Marvel NOW! And there's no better place to learn about our thrilling and creatively diverse All-New Marvel NOW series than this panel! PLUS – What cataclysmic event begins this September in AVENGERS and NEW AVENGERS? And what exactly is the monumental fall 2014 Avengers and X-Men event,AXIS? You've got questions and we've got answers! Don't miss exciting discussion of current and future projects as editors & writers spill the beans on all things MARVEL! Panelists include Executive Editors Tom Brevoort and Mike Marts, with writersPeter David (All-New X-Factor), and Greg Pak (Storm)!

Sunday, June 15th

MARVEL: Marvel Unlimited+ MEMBERS ONLY Event

Time: 11:15AM – 12:15PM EST

Room: Theater B – 1E21

Join Executive Editorial Director of Digital Ryan Penagos as well as Marvel editors and top creators for a private panel discussion of what's happening inside the Marvel Universe. Get FREE merchandise (while supplies last), sneak peeks of upcoming comics, Q&A Session to answer all your burning questions and more! Marvel Unlimited Plus Members ONLY – show your Member Card or confirmation email at the Marvel Booth for event credentials.  Panelists include Kris Anka (Wolverine),Simone Bianchi (Thor & Loki: The Tenth Realm), Ed McGuinness (Guardians of the Galaxy), Michael del Mundo (Elektra) and Will Sliney (Spider-Man 2099)!

MARVEL: 75 Years of Marvel

Time: 2:45PM – 3:45PM EST

Room: Theater A – 1E19

2014 marks the 75th anniversary of Marvel Comics #1 – The comic that started it all, giving birth to the entire Marvel Universe! Come celebrate this momentous occasion as fans join legendary Marvel creators to discuss 75 amazing years! PLUS – What is Marvel doing throughout 2014 to celebrate? The full scoop here! Panelists include Senior Editor Nick Lowe, Chris Claremont(Nightcrawler), Peter David (All-New X-Factor), Bob McLeod (New Mutants), Nick Bradshaw (Guardians of the Galaxy),Ryan Stegman (Inhuman) and other Mighty Marvel Guests!