Titan Books produces an excellently put together art book for Ubisoft's newest blockbuster.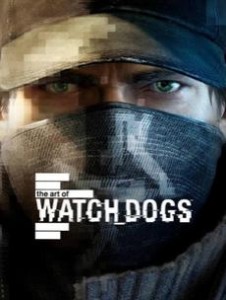 The Art of Watch_Dogs joins Titan Books' line of art books collecting concept and production art for movies and games. I'm already a fan of the publisher's Dead Space book, so I sort of knew what the Watch_Dogs book was going to include when I cracked the cover and leafed through. Sure enough, the volume is right in line with the best 'art books' out there having to do with the medium of games.
A hardcover book presented in a large format, The Art of Watch_Dogs contains over 140 thick, glossy pages. The pages are easy to turn and have a great weight to them that makes them feel extremely high-quality. You basically want to linger on the pages of a book like this and The Art of Watch_Dogs makes that an extremely easy proposition. There are several different types of illustration in the tome and each page contains something new and different to gawk at, occasionally punctuated by some neon-blasted color-soaked art that splits the dark and gritty world of Watch_Dogs nicely. Inside you'll find art right from the game itself, as well as concept work that shows the characters and locations from the game's fictionalized, hyper linked, and connected future-Chicago.
Even though you will find a decent amount of in-game shots, most of the stuff in the book is from the concept stages of development and that's a very good thing. Although the stuff from the game itself that's included is great and all, it's stuff that you've seen if you've played, which I'm going to assume that you have (or will) if you're reading this. In all, The Art of Watch_Dogs is broken up into four main chapters; Dramatis Personae, The Living City, The Underground, and Everything is Connected.
Character dossiers make up the first section of the tome and they're particularly cool looks into the motivations and backgrounds of the main group that you'll be playing with throughout the entirety of the game. You'll get the biggest look at main character Aiden of course, but decent backgrounds on the likes of Clara, Defalt, Jordi, and others are present as well.
The concept stuff that makes up The Living City is really excellent. Everything from the bigger cityscapes to the smaller, indoor locales are done in incredible detail and you get a fabtastic inside track on what the developers at Ubisoft were thinking as they put the world together. Notes abound with little descriptive paragraphs on every splash of artwork to tell the story as you read. Actually, at times there are some spoilery notes that should probably be carefully trod upon, depending on how far into the game you are. It's nothing game-breaking, just some little tidbits that might tell a little too much of the narrative (albeit in a simple and non-in-depth way), depending on your tastes. I hadn't gotten all that far into Watch_Dogs when I read through and the game wasn't ruined at all for me, but for some there might be an issue.
Part three is The Underground, which is basically an insane grouping of artwork focused largely on the main component of Chicago's 'underground'- DedSec. A hacktivist group, DedSec is explored in this section pretty in-depth with a unique ASCII art style that you definitely don't see in video games too often. The team of malcontents isn't the sole focus of the chapter though as we also get a good look at the murals and graffiti that adorn the city's urban locales.
Chapter 4 is Everything is Connected, which is pretty self-explanatory. Centering on ctOS, Chicago's all-inclusive operating system, there's a little of everything in this section. The ctOS is Chicago's central operating system and is actually one of the biggest characters in the game after all, so there should be a chapter centered on it, as it's the component of the world that Aiden manipulates in order to progress through the game itself. I personally felt that this section should have been a little bigger and that a deeper look at ctOS would have been in order. As it is, there's some cool stuff to look at here, just not enough of it and definitely not enough to give players of the game a 'complete' look at the system that drives the game.
Final Thoughts
There's so much to like here, that it's almost surprising. The Art of Watch_Dogs was book that I honestly didn't think could have a lot going on. Don't forget here that Watch_Dogs isn't some fantasy science fiction story and there are no giant mechs (well…) or aliens crawling all over distant planets to stare in awe at.
The game is grounded in reality and, somewhat far-out hacking abilities aside, is more like the everyday world that you see outside your window in the bigger cities of the world than anything else. With that in mind, I figured that the art wouldn't be all that interesting. It was though, and that was such a nice surprise here.
What you'll find in The Art of Watch_Dogs is a selection of really phenomenal artwork that tells a visual picture of the world that Aiden Pierce lives in, and you'll get a bit of a deeper understanding of most of what Ubisoft has put together. If you're a fan of the game, I doubt you'll be disappointed; and if you're not, there's plenty here to keep your interest and maybe even enough to pull you into the wired word of Watch_Dogs.