A survival mode has arrived for Flying Wild Hog's Shadow Warrior reboot and SW is crossing over with the all-new Rise of the Triad in a very big way (hint- it involves Wang).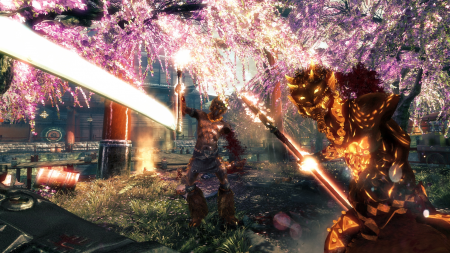 These crossovers are getting to be a pretty regular happening with Devolver Digital and Flying Wild Hog's Shadow Warrior and here in this just announced commingling we're getting a double dose.
First up is Shadow Warrior, which gets that all-new survival mode. The new mode includes three 'custom built' arenas where players, as Lo Wang, will have to hack and shoot at waves of enemies just to survive, hence the name. But that's not all because the fabled Excalibat from Rise of the Triad will also be at your disposal to use in place of your standard katana.
And that's where part 2 of this comes in as Interceptor Entertainment and Apogee Software's Rise of the Triad gets a little Wang for its Excalibat. In particular, Lo Wang (Shadow Warrior's star) makes the jump into the multiplayer arenas of RotT, which is just about as cool as it gets.
You know what might make all this even better? If it was all free of charge- which is most definitely is. Free stuff is always good, but free stuff at the Holidays? That's just Wangtastic.
Both Shadow Warrior and Rise of the Triad are available right now for the PC.