Toy and collectable maker Diamond Select Toys has a bevy of 'thunder' themed items in stores right now from the Thor: The Dark World feature film as well as those lovable mercenaries from the pages of Marvel's Thunderbolts comics.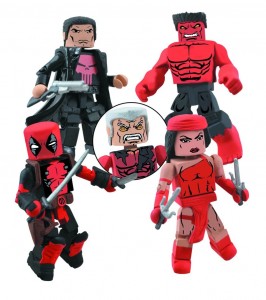 Who doesn't love the Punisher, Elektra, Red Hulk and Deadpool? Nobody? Yep, that's what I thought. Sure they might not get along the best, or act as a 'team' sometimes, but the newest incarnation of the Thunderbolts sure is interesting to watch nonetheless. The new Minimates box set of the group includes the four main characters, well, actually five main characters if you count the fact that you can transform General Ross into Red Hulk with some nifty interchangeable parts.
And if red isn't your thing, and you're more inclined towards actual thunder and lightning, you're probably going to dig the Thor: The Dark World offerings that just hit shelves. Not only do we get Marvel Select figures of Thor and Jane Foster this week, but we also get some awesome looking Minimates from the film and a Mjolnir ice cube tray. Yes, now you too can bring down the hammer… on your favorite beverage. Ooo- or you can make lil' chocolate Mjolnirs! The possibilities, as they say, are endless.
Marvel Select Thor: The Dark World Jane Foster Figure

Actress Natalie Portman played a prominent role in Thor: The Dark World as Dr. Jane Foster, and Diamond Select Toys has teamed up with Gentle Giant to capture her on-screen look! Sculpted in a 7-inch scale with 16 points of articulation, the figure depicts Foster as she appears in the new film, with detailed sculpting and paint as well as an exacting likeness of Portman. The figure will come packaged with an alternate "possessed" head, a Dark Elf weapon, and a detailed diorama that combines with Thor's. Comes in display-ready Select packaging, complete with side panel art. Sculpted by Gentle Giant! (Item #MAY131785, SRP: $24.99)

Marvel Minimates Series 53 Thor: The Dark World Asst.

A Diamond Select Release! Designed and Sculpted by Art Asylum! The Mighty Avenger is back in a new movie from Marvel Studios, and DST has an all-new series of Marvel Minimates to go with it! The assortment includes four different two-packs, including Thor with Malekith, Loki with Heimdall, Dr. Erik Selvig with a Dark Elf and the short-packed variant set of Darcy Lewis with a Dark Elf. Each Minimate stands 2 inches tall and includes a variety of interchangeable parts and accessories. (Item #MAY131783, SRP: $9.99/2-pk)

Marvel Thor's Hammer Silicone Tray

Feel like a frost giant with the latest Marvel-themed silicone rubber tray from DST! You can fill the Mjolnir-shaped openings with a variety of substances to make little hammers made out of ice, gelatin, or even chocolate! Turn any party into an Asgardian feast with the perfect gift for any Thor fan! (Item #SEP131920, SRP: $15)

Marvel NOW! Minimates Thunderbolts Box Set

The newest incarnation of the Thunderbolts may be the deadliest team yet! This box set of four Minimates mini-figures draws from the latest Thunderbolts line-up, as seen in the current Marvel NOW! comic, and includes Deadpool, The Punisher, Elektra and Red Hulk, who can transform into General "Thunderbolt" Ross! Each Minimate stands 2 inches tall and includes a variety of interchangeable parts and accessories. Designed and Sculpted by Art Asylum! (Item #AUG132037, SRP: $19.99)