More new uniforms, a supply drop for multiplayer gamers and a new challenge pack headline the newest dlc offerings.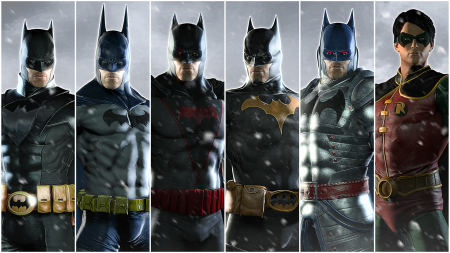 Warner Brothers has been doing a great job getting out the skins for this game- as a big Batman fan myself, I love that they've been dropping in all kinds of uniforms for the Dark Knight that pay homage to some of his greatest and biggest adventures. We've already got some good ones (Noel and the New 52 suit come to mind), but now Batman: Arkham Origins players can don the costume from The Long Halloween among others (though that one pretty much does it for me).
Here's your full list of what's available now as a part of the new 'Infinite Earths' skin pack:
Earth 2 Dark Knight
Long Halloween Batman
Batman: Dark Knight of the Round Table
Thrillkiller Batman
Earth 2 Batman
Classic Tim Drake Robin (available in multiplayer mode only on PS3, Xbox 360 and PC)
As far as other dlc goes, there's plenty of that out now too with the Black Mask Challenge Pack and the Online Supply Drop #1.
Batman: Arkham Origins Black Mask Challenge Pack

Available on the PlayStation Network, the Xbox LIVE online entertainment network from Microsoft, Nintendo eShop and Steam for $1.99, the Black Mask Challenge pack allows players to take on Gotham's most dangerous crime lord in two all new challenge maps: Lot Full and Hidden Facility. All players can defend the city as Batman, and those who own the Deathstroke Challenge Pack can also choose to play as Deathstroke in this new challenge map pack.

Batman: Arkham Origins Online Supply Drop #1

Available on PlayStation Network, the Xbox LIVE online entertainment network from Microsoft and Steam for $2.99, the Online Supply Drop #1 DLC offers additional multiplayer content: two additional clothing items with game enhancing features for Bane and The Joker; the all-new Sawn-Off Shotgun; and extra weapon progression bonuses and skins.
That's actually a really nice little touch that you can play as Deathstroke in the new Challenge Pack if you already have the 'Stroke's own pack. Cool stuff. Outside of this drop, the next dlc has also been announced by Warners as a single-player, campaign episode. We don't have a date yet on it, but the pack will follow an even younger (and Bat-suitless) Bruce Wayne as he goes through a Batman Begins-like challenge against a horde of ninjas.
We'll have a date for you on that one as soon as we find something out, in the meantime, all of the new dlc written about here is available now to add onto your copy of Batman: Arkham Origins for the Xbox 360, PS3 and PC.