Some of the most classic titles in Sega's impressive back-catalog of arcade hits have started to leak onto the Nintendo eShop (for the 3DS) in three-dimensional form.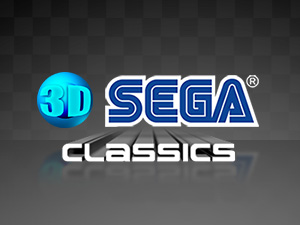 Sega announced a while ago that they'd be bringing some of their best-loved and historic titles to Nintendo's handheld with an added dimension. Now here we are at the start of the waiting-in-line season (which always goes great with handheld gaming) and lo and behold, both 3D Super Hang-On and 3D Space Harrier have officially arrived for download.
If you consider yourself a Sega mega-fan, then you probably don't need to much of a shove into picking up one of these new additions to the shop, or both even- if you're on the fence though, these are the same classic games that saw release all those years ago, just with some 3D thrown in for good measure. They're kind of like Nintendo's own 3D classics line, just more… Sega-y. If that's a thing.
Anyway, if you're into 'em, go get your 3DS and start the download(s) right now (thar be space-mammoths to bizarrely fly at and shoot!), then stay tuned for next week (December 5th) for the next two games in the promo- Sonic The Hedgehog and Altered Beast.