It's a supernatural kind of week for the toy and collectible maker as a trio of big properties get some new goodies in stores.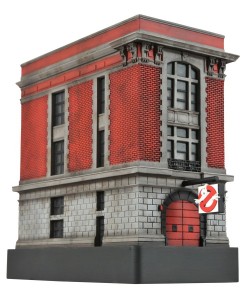 Probably the most timely of the new releases is the figure of Thor from the Thor: The Dark World film that releases this Friday. A part of the Marvel Select line of toys, Thor (and eventually, Jane) is the first character from the movie to see immortalization in plastic and he's looking mighty sharp in his new gold and blue ensemble.
Following up on the big guy is a bust of Rick Grimes from The Walking Dead. This version of Rick is from the comics, as you'll note by the missing right hand, but is all the same a cool collectible for any kind of Dead fan- just maybe not the Grateful kind…
And then there's the Ghostbusters firehouse. And it lights up. If I have to explain why this one is cool then I've lost all faith in you. If you're a fan, it's pretty much a 'must buy'.
Walking Dead Rick Grimes Vinyl Bust Bank– The popular line of Walking Dead banks continues with its first human character! This 8-inch vinyl sculpture of protagonist Rick Grimes is based on his appearance in the acclaimed Walking Dead comic book series, and while it looks like a bust, it's actually a bank, with a coin slot in the back as well as an opening in the base! Factor in Rick's collectible-quality paint and sculpting, and your zombie banks won't stand a chance! Sculpted by Eli Livingston! (Item #JUL131822, SRP: $23)
Marvel Select Thor The Dark World Action Figure– Thor, the Mighty Avenger, returns to the big screen this fall in Thor: The Dark World, and Diamond Select Toys has teamed up with Gentle Giant to capture his new on-screen look! Standing approximately 7 inches tall with 16 points of articulation, the new figure features the latest Thor costume, straight from the set of The Dark World, and an exacting likeness of Chris Hemsworth. The figure will come packaged with a detailed base that combines with Jane Foster's to re-create a scene from the film. (Jane coming soon!) Comes in display-ready Select packaging, complete with side panel art. Sculpted by Gentle Giant Studios! (Item #MAY131784, SRP: $25)
Ghostbusters Light-Up Firehouse Statue– Light 'em up, boys! The light-up Ghostbusters statue line continues with the famous Ghostbusters firehouse! Lit from within like someone just shut down the containment grid, this 7-inch mini-statue is the perfect accessory for any Ghostbusters fan's desk. Faithfully re-creating the iconic landmark, it stands atop a black base, and runs on two AAA batteries (included). Limited to only 1,984 pieces! (Item #JAN131636, SRP: $70)