Konami defines the relationship between the pair of games coming out with the 'Metal Gear Solid V' name attached.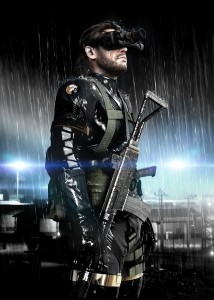 "The advanced capabilities of the FOX Engine are allowing me to express the story of METAL GEAR SOLID in a new way," explained Hideo Kojima, Creator of the METAL GEAR SOLID series, and head of Kojima Productions. "There will be a significant difference in what METAL GEAR SOLID V: THE PHANTOM PAIN brings to the series, so we want to ease players into the new open world environment and its potential, allowing them to fully benefit from all that the new game offers. As such, METAL GEAR SOLID V: GROUND ZEROES has been designed to introduce key elements, while setting up the events of METAL GEAR SOLID V: THE PHANTOM PAIN."
So while both games will feature Snake and the all-new FOX engine, Ground Zeroes will ver much be a prequel to the later release of The Phantom Pain. GZ will, in effect, guide players into the very different (for a Metal Gear title anyway) experience that is TPP. That's a pretty novel idea and a neat one too- and really, who's going to complain about another Metal Gear Solid?
It shakes out like this: Ground Zeroes follows Big Boss (Snake) as he infiltrates a Cuban prison camp. His mission is of the rescue type and he has to remain as undetected as possible, so this is vintage Metal Gear stuff right here. Oh, and "Explosive plot lines develop quickly as he finds himself on behind enemy lines with little options for help", but you probably knew that was coming.
Where Ground Zeroes ends is where The Phantom Pain begins as Big Boss finds himself embroiled in the deep and rich storytelling that Kojima is known for in a stunning open-world setting that the FOX engine was seemingly built to create. If you've seen any of our previous coverage on The Phantom Pain, then you know this is one gorgeous game and easily the best-looking and biggest-thinking Metal Gear Solid title yet.
Metal Gear Solid V: The Phantom Pain releases some time in 2014, but Metal Gear Solid V: Ground Zeroes actually has a loose release date right now. Gamers can expect to step into the shoes of Big Boss this coming Spring for the Xbox 360/One and PS3/4. The Xbox 360 and PS3 editions will come retail boxed for $29.99 USD or in downloadable form for $19.99 USD while the Xbox One and PS4 versions will be downloadable-only and will cost you $29.99 USD.