The Corps makes its current Valiant U debut in Harbinger Wars #3.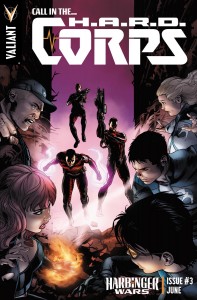 Longtime Valiant fans (or just comic buffs) should remember the H.A.R.D. Corps from their own standalone book back in the 90s. The superteam was assembled basically with only one goal in mind- to wrangle and contain Toyo Harada's Harbingers.
It remains to be seen just how many of the original elements of the squad will remain for their reappearance, but the idea behind them was pretty awesome. The team was made up of a group of ex-pilots who were brought back into the world from out of coma's by the Omen Corporation and implanted with cybernetics that allowed them to tap into superpowers. The point of all this was, of course, to have a dedicated team to fight Harbingers (and others) on their level.
From the looks of the cover to Harbinger Wars #3 that's teased today, they're still very much in the battle against Harada's super humans- and it also looks like that fight will take them right up against the Renegades. If you're a Valiant fan and are pumped for the publisher's first big crossover, Harbinger Wars, then you probably don't want to miss this one.
Look for Harbinger Wars #3 from the creative team of Joshua Dysart, Duane Swierczynski, and Clayton Henry to be on stands this June.