In which Drizzt learns that in order to have a future, he must come to terms with his past.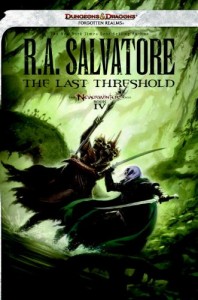 Fans of the Neverwinter Saga will finally have the explosive ending they've long been anticipating, and readers who have followed the trials and tribulations of the dark elf Drizzt Do'Urden from the start will have their fill of friends and enemies past and present, as Drizzt makes the decision to return to the only place he's ever really considered his home.
The Last Threshold is the fourth installment in the Neverwinter Saga, which began with Gauntlgrym, followed by Neverwinter and Charon's Claw.  All four follow the path of R.A. Salvatore's iconic hero, a dark elf who has gone against his race's treacherous ways to make his own righteous way in the world. Throughout the Neverwinter Saga, Drizzt has wrestled with his choices, due to both the path his life has taken, and the unusual companions he now finds himself with.
The Last Threshold begins where Charon's Claw left off. With the evil sword now destroyed, Drizzt and his companions, Artemis Entreri, Dahlia, Ambergris, and Afafrenfere must now decide whether their futures lie together or apart. As Dahlia seeks to become closer to Drizzt, his feelings for the long-dead Catti-brie come to the surface. Must he set her aside in order to be with Dahlia, or is he merely deceiving himself? As Drizzt wrestles with both his motives and the actions of the past, the world around them is in chaos.
The twisted Effron Alegni seeks with all his heart to kill Dahlia, despite the immediate threat to his own life should he do so. His grievances with Dahlia run deep though, and to set them aside may well be something he simply cannot do. But he is not the only one hunting Drizzt's band. Unbeknownst to Drizzt, the evil Draygo Quick imprisons that which he holds most dear, and the ambitious Tiago Baenre will stop at nothing to see Drizzt dead.
While The Last Threshold is certainly full of the vividly detailed battles that Salvatore is known for, as Drizzt and his band of talented fighters face off against a myriad of enemies from both the land and sea, its most contentious battle is that within Drizzt himself. As he fights to both do what is right, and to guide his skeptical companions on a moral path as well, Drizzt will need to fight the demons within him – often a much more difficult task than battling a demon before him. This is where Drizzt will find out who he really is, who he wants to be, and what he must do to become the Drizzt he wants to be.
R.A. Salvatore fans will find that the many twists and turns he is known for are in full force in The Last Threshold. While it is very readable for someone new to The Forgotten Realms, long time fans will be thrilled at the many mentions of characters and locations from tales long past. This is truly the story of Drizzt, past and present, old and young, good and bad. As Drizzt struggles with who his companions really are, he instead finds out who he must be. The Last Threshold is masterfully written, thrillingly unpredictable, and everything a Drizzt Do'Urden fan could hope for. You'll be hanging on the words till the very end….and then begging for more.