It's the Year of the Villain in DC Comics' universe, and it all kicks off just before Free Comic Book Day. The issue lands on May 4th for just 25 cents USD.
Villains all around
So, first, what is Year of the Villain? The answer is that it's a villain-centric one shot. The book will spin out of writer Scott Snyder's Batman who Laughs mini-series.
Year of the Villain will likewise star the talents of Snyder. He'll be joined by James Tynion IV, and Brian Michael Bendis on the writing side. Providing the art meanwhile, will be Alex Maleev, Jim Cheung, and Francis Manapul. Frequent Snyder penciller Greg Capullo will be handling the cover.
The story won't be all about the other-worldly laughing Bat though. This tale shifts to spotlight none other than Lex Luthor and his Legion of Doom.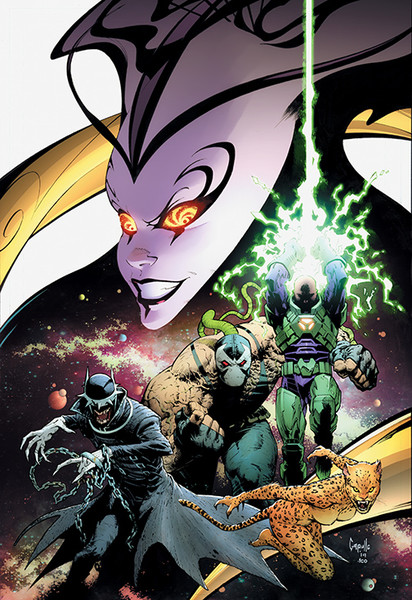 Following the events of Snyder and Tynion's JUSTICE LEAGUE, Lex Luthor takes a major step forward,  assembling his Legion of Doom for the final push to replace Superman, Batman, Wonder Woman and the rest of the League as the rightful leaders of not only mankind, but the universe itself, hoping to harness the power of Perpetua, the first being to be imprisoned within the Source Wall, now newly freed in the events of JUSTICE LEAGUE ANNUAL #1. Perpetua's storyline and Luthor's plans to rid the universe of heroes will continue to escalate throughout the rest of 2019.

DC Comics Press Release
Big tale, small price
Interesting stuff. As a Lex Luthor fan, I'm looking forward to this one. The working-in of the Source Wall too, is really cool, especially with all the Dark Multiverse stories, and it could result in one heck of a story.
DC's Year of the Villain is set to debut a few days before Free Comic Book Day 2019, which is May 4th. You can grab a copy on the stands as of the 1st of May. No, it's not free, but it's pretty close. The one-shot will cost you just 25 cents USD.