Publisher Dark Horse Comics has been pretty active in the Avatar: The Last Airbender department as of late and they'll be continuing that trend with the forthcoming Legend of Korra Art Book.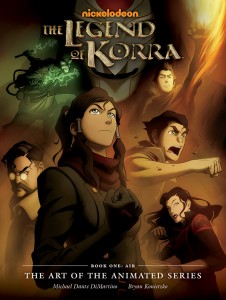 Hot on the heels of their recent announcement for digital editions of the Avatar comics and the Avatar: The Last Airbender – The Art of the Animated Series book, the company will be producing the Legend of Korra Art Book.
The new tome will show off not only art from the Nickelodeon cartoon of the same name (minus the 'Art Book' part), but it'll also be loaded with previously unseen imagery and unpublished art from the show.
The Legend of Korra animated television series premiered four years after the conclusion of the Avatar: The Last Airbender series, elevating the Airbender franchise to a whole new level. Ever since the conclusion of season one, its insatiable fan base has been hungry for more!

This beautiful hardcover contains hundreds of pieces of never-before-seen artwork created during the development of season one of the show. With commentary from show creators Michael Dante DiMartino and Bryan Konietzko throughout, this is an intimate look inside the creative process that brought the mystical world of bending and a new generation of heroes to life!
The Legend of Korra takes place some 70 years after the original Avatar: The Last Airbender series ends. The show follows Korra, an airbender who's mastered three out of the four elements. When she heads to the New York-like Republic City (a place where benders and regular folks live in peace) she discovers not all is as it seems and a growing revolutionary force of anti-airbenders is threatening to bring down the entire system.
Korra then teams up with the son of the first Avatar Aang, named Tenzin, to try and stop the revolutionaries, complete her training, and become the next Avatar.
Look for The Legend of Korra: The Art of the Animated Series—Book One: Air to hit retail shelves on July 24th.
Jason's been knee deep in videogames since he was but a lad. Cutting his teeth on the pixely glory that was the Atari 2600, he's been hack'n'slashing and shoot'em'uping ever since. Mainly an FPS and action guy, Jason enjoys the occasional well crafted title from every genre.