There's a monster set of stuff coming up and out right now for all your gift-giving (and getting) needs, from Factory Entertainment.
Make that list
We're just about passed Thanksgiving (here in the US anyway), and that means it's time to both give and get some cool stuff for the Holiday Season. And if you're currently forging a list in either of those directions, then you might want to see what Factory Entertainment has on tap.
The company produces some of the coolest collectibles and replica items that you're going to find. So if you either are or you've got a movie or TV fan to buy for, you just might find some gems.
Prop Replicas
Full-on prop replicas make up what's pretty easily the most impressive line from Factory. These pieces are full scale, 1:1 remakes of what you've seen in the movies or TV shows that they hail from. And while there are quite a few in stock, we've picked two of our favorites for this peek.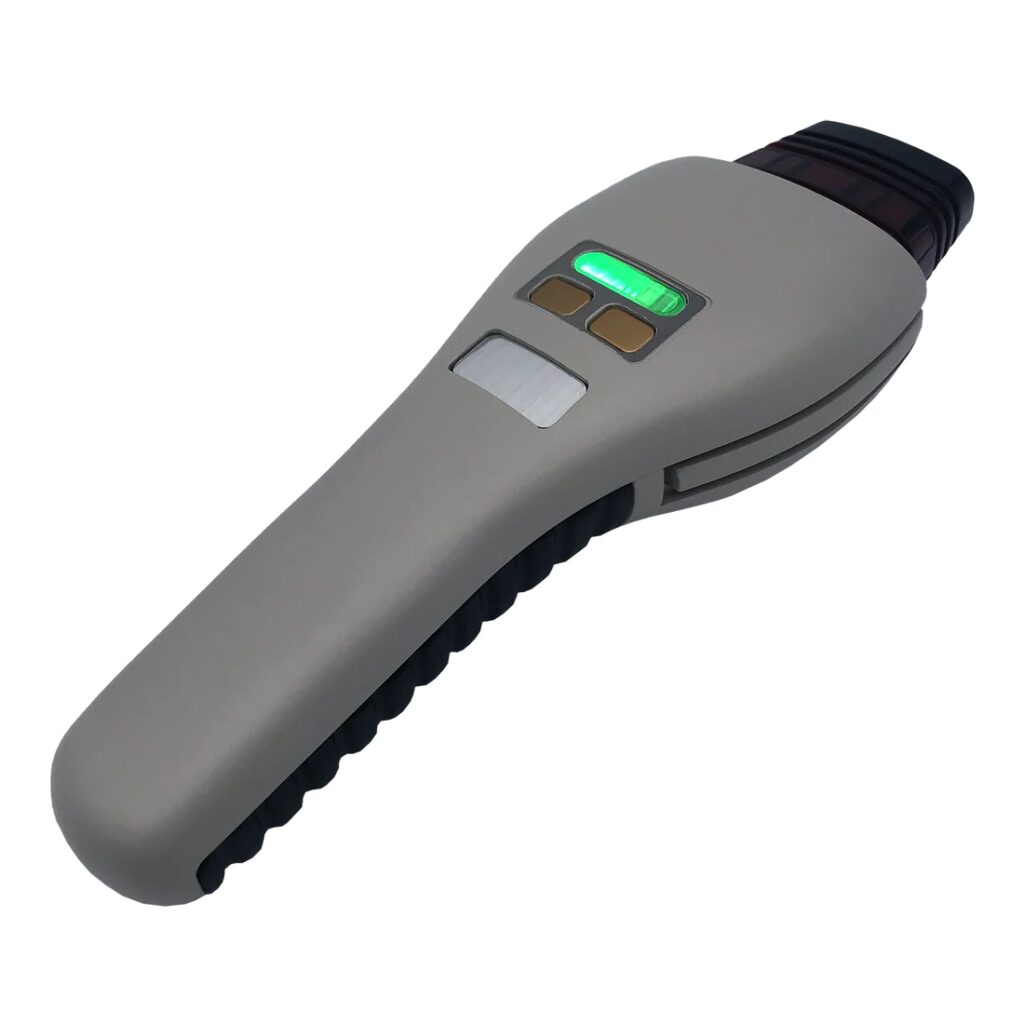 First there's the Star Trek: The Next Generation Type II Phaser, which is lovingly referred to as the "dust buster". That's for obvious reasons, and on top of the fact that this looks like it could have been used on-camera, this replica has also got battery-powered special effects built-in.
While it's definitely not a toy by any means, this 8¼" x 3″ x 1 3/4" replica does light up and produce sound effects, just like on the show. So we suppose it would be possible to run around your house, pretending to blast Romulans, though you could also just set it on your Trek-shelf, in its neat looking display box.
Oh, and if it looks like it's plastic to you, it isn't. According to Factory, this replica is made with a "heavy all metal body". The Star Trek | The Next Generation Type-2 Dust Buster Phaser Limited Edition Prop Replica is priced in at $549.99 USD, and you can find it here.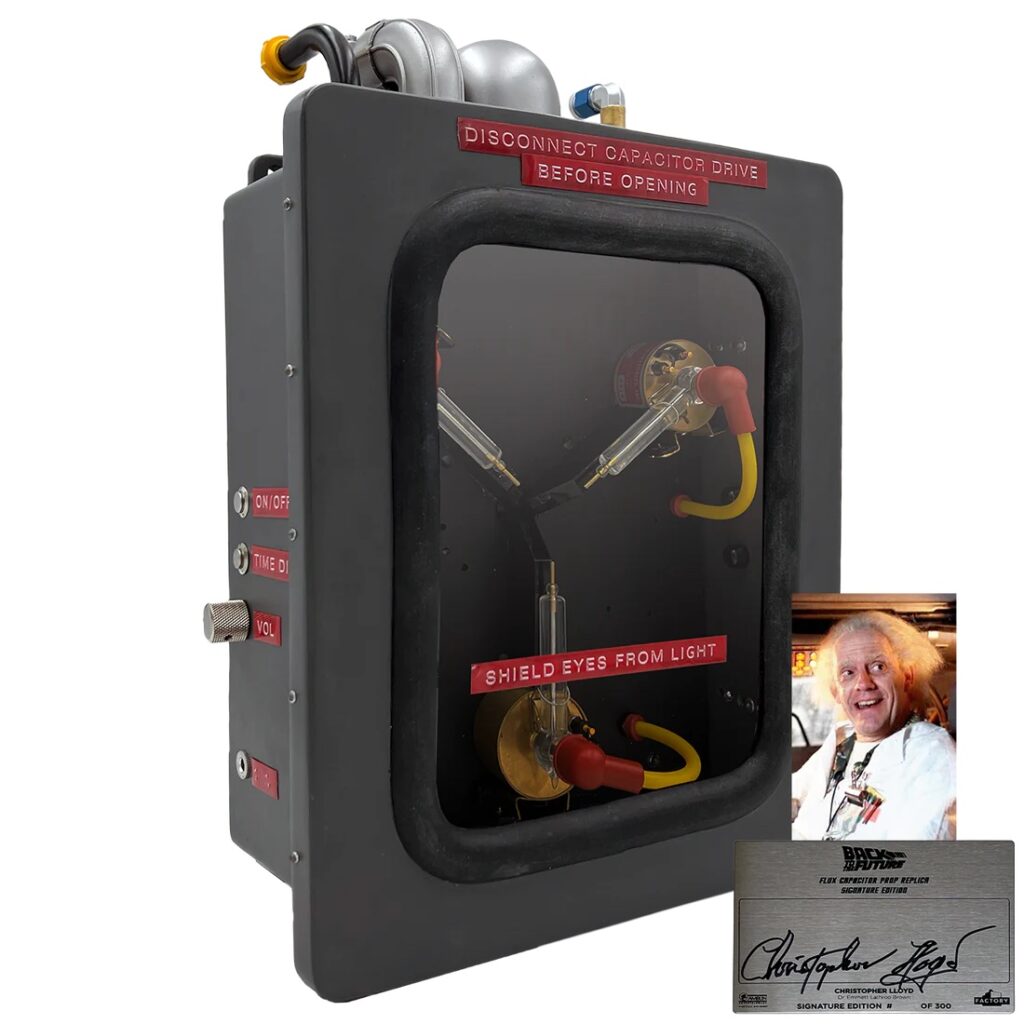 If you're looking for something super-special though, and maybe something that might be the best Back to the Future collectible of all time, then you may be interested in the special edition of the Flux Capacitor. Yes, Doc Brown's greatest invention is on tap from Factory, and while it's just a pre-order, it'd likely make a BttF super-fan go nuclear.
Not only do you get what looks to be a super-detailed, 1:1 replica of the device that powered the DeLorean, but also included with this set is "a numbered plaque, prop story booklet, and remote control to power on and control the replica." Did we mention that the plaque is going to be "hand-signed" by the Doc himself, actor Christopher Lloyd? How's that for wickedly cool?
Again though, as we hinted above, this isn't set to ship til some time in 2024. It's also limited to just 300 pieces and exclusive to Factory's online shop, so yeah, this one's expensive. The Flux Capacitor is priced in at $1499.99 USD, and you can reserve one here.
Scaled Prop Replicas
Believe us, we get that the above stuff is pretty pricey and probably represents a little more than most would want to drop on the Holidays. But remember that Factory has a ton of cool stuff otherwise, running across a bunch of additional categories and price points. One of the best, in our estimation anyway, are the Scaled Replicas.
Those are exactly what they sound like, and offer up a form-factor that's just like the real thing, only smaller. We've looked over the full list of what the company has on tap, and again grabbed two 'picks' that we love. While we've tried to differentiate what we're choosing to show here, keep in mind too that some of these categories overlap. So you'll find Batman stuff in a few of them, just as an example.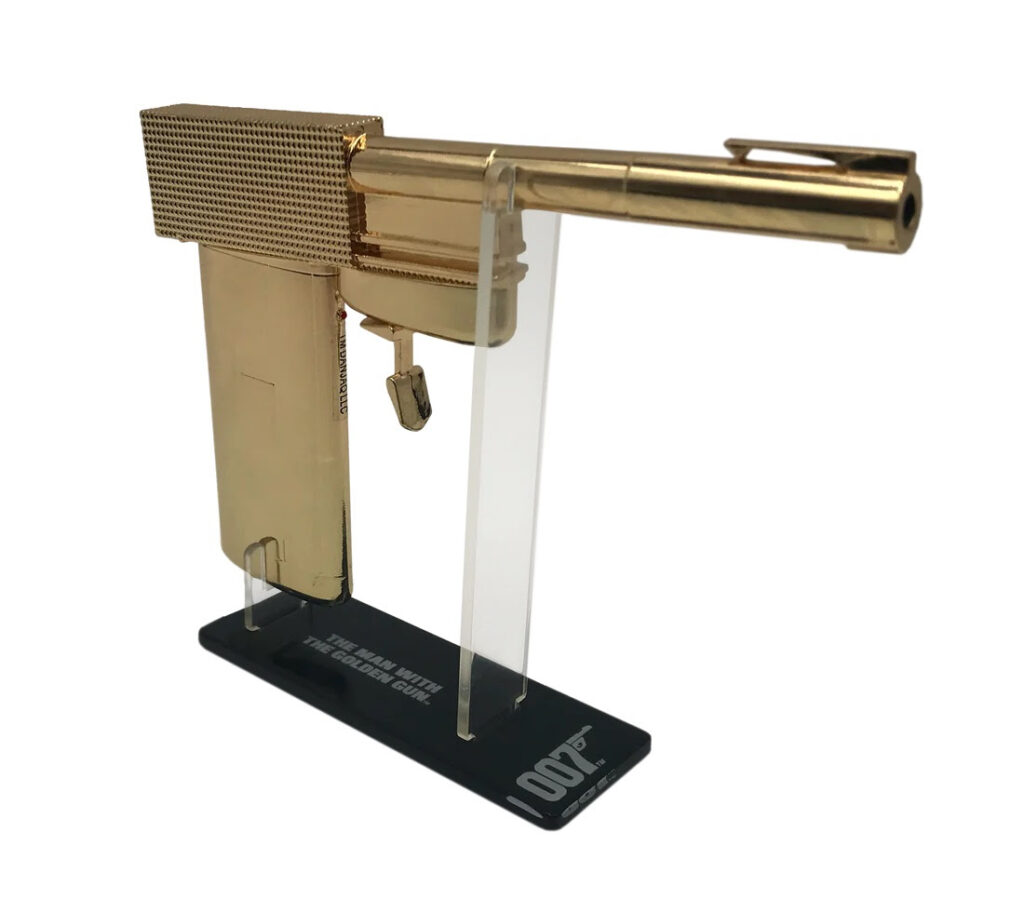 Pulled from the Bond movie series and wielded by Francisco Scaramanga, Factory's Golden Gun Scaled Replica is 6″ long from end to end. Like the Star Trek phaser it's cast from metal, but unlike the phaser, it's cast from solid metal. Yes, this is one piece with no moving parts, and weighs in at .82kgs. As you can see, it comes with a stand as well, so it should provide for some nice desktop deco for 007 fans.
The Golden Gun Scaled Replica is priced at $79.99 USD, and is available right here.
As for that Jurassic World offering, it's packed with something not for the desk, but for the wall. Actually maybe we should say 'somethings', plural, as you get a six-pack of wall-signs included in this magnetic-flapped box. Each one is made to look like it could have hung somewhere in the world of the infamous theme park, running the gamut from warnings about raptors in the back-country to uh… more warnings about keeping your distance from herding sauropods.
Each sign appears to have a nice amount of weathering, and all are printed directly on tinplate. They all have pre-drilled holes according to Factory, so mounting shouldn't be an issue. Much like the Golden Gun, this set is priced at $79.99 USD, and you can grab it here.
Kitchenware, keychains, and more
So the replica game is pretty much what Factory is known for, but the company actually produces plenty more. If you're looking for a stocking-stuffer, or just a smaller gift to wrap up, they might have just what you're seeking in the realms of kitchenware, keychains, or pins.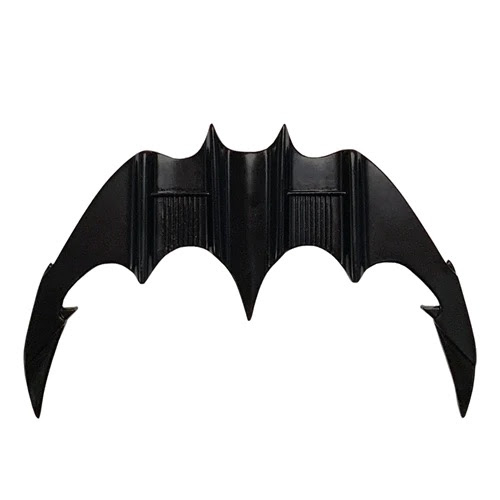 First up, and made to look like a mini-version of the famous batarang from the 1989 original Batman feature film, is the Batman bottle-opener. This little guy has magnets on the back to keep it handy, and should pop the tops of your bottles with little trouble. It's priced at $21.99 USD, and you can check it out here.
The other two items are indeed keychains, but as you can also see, each one comes complete with a separate pin, so you're kind of getting two gifts for the price of one. And of course, in the case of the keychain you're getting a gift that somebody could use every day, taking a little piece of their fandom with them wherever they go. The Goonies set is available here, while the Jaws set is here, and both are priced in at $21.99 USD.
The above represents some of the stuff we thought was the coolest in Factory's shop, but again the company has a ton more. There's more to be seen from all of the above properties, plus way more than we could ever hope to print here. Something for everybody? Yeah, almost.
Happy shopping.