Here's something new, as Capcom is bringing both Resident Evil 4 and Village to iPhones, thanks to the iPhone 15 Pro.
Scary powerful
We usually don't cover mobile gaming, but this is just too cool not to talk about. Just revealed as a part of the newest iPhone launch event yesterday, Capcom's Resident Evil 4 and Resident Evil Village will be making the jump to Apple's newest generation of handsets.
Before you ask, no these won't be streaming or cloud-based anything. Both games will be made available natively as "apps" on Apple's App Store, for download and play via iPhone 15 Pro or iPhone 15 Pro Max. This marks the first time that the titles will be making their way to handsets of any kind, and also the first time that there's a real sense of parity between mobile phones and home consoles.
According to Capcom, the games will take advantage of Apple's new Metal hardware acceleration, making use of "MetalFX Upscaling to deliver impressive performance and incredibly responsive gameplay across iPhone, iPad, and Mac." Oh yeah, did we mention that the games are both coming to iPad too, and RE4 is hitting Mac? Yep, as long as your Apple device has got an M1 chip (or later), they should be supported.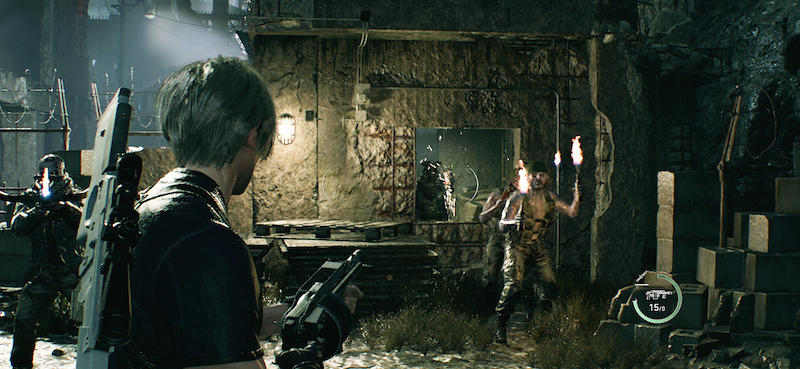 Not only will they be available to play on the above platforms, but the games will also support a form of "cross-progression". Capcom says that if you start your play-through of Resident Evil 4 on a Mac, you should be able to grab your iPhone 15 Pro and continue it on the road (or wherever). That's one heck of an exciting prospect, and bodes very well indeed as to gaming in general on Apple's hardware family.
Before you get too excited though and go buying a copy of Village (which is out now on Mac), just know that it's going to be a little different for that specific game. The main sticking point there is that it's already got that standalone Mac edition, so the upcoming iOS version of it will be its own thing. Why Capcom couldn't just update the existing coy of Village or replace it we don't know, but it's not in the cards. So while you'll be able to cross-play the as-yet unreleased Village App via the new iPads and iPhone 15 Pro, you can forget the Mac version.
As for the new stuff, all of the upcoming versions of Resident Evil 4 and Resident Evil Village should be out and in the App Store some time before the end of the year though.