The Holiday tradition continues, as Dark Horse will have Hellboy Winter Special: The Yule Cat on shelves this December.
Yuletide with a giant cat
Hellboy is back once again, and this time Dark Horse is taking the paranormal hero back to the year 1990, for a romp with a… giant cat? Yep, and we're not just talking about any old giant cat either. It's a beast of legend that will be stalking the pages of this December's Hellboy Winter Special: The Yule Cat.
Now, if you're not familiar with the title creature, it's a doozy so strap in. In Icelandic culture there's this cat, and as mentioned this is a very large cat, and on Christmas Eve he makes a habit of uh… of eating people (mainly kids) who haven't gotten any new clothes to wear on Christmas Day.
Defrosted by artist and writer Matt Smith, this year's Winter Special will bring Hellboy face to face with the title beast, who's actually called Jólakötturinn in the native tongue.
"The land of fire and ice, trolls and necropants, Iceland is as natural a setting for a Hellboy story as any I could think of," said Matt Smith. "Set in 1990 and coming close to the events of the Hellboy: Bones of Giants, Hellboy likely hasn't forgotten about the wrath of old Norse giants. But a giant, child-eating cat—that would be something new."

Matt Smith, Writer and Artist, Hellboy Winter Special: The Yule Cat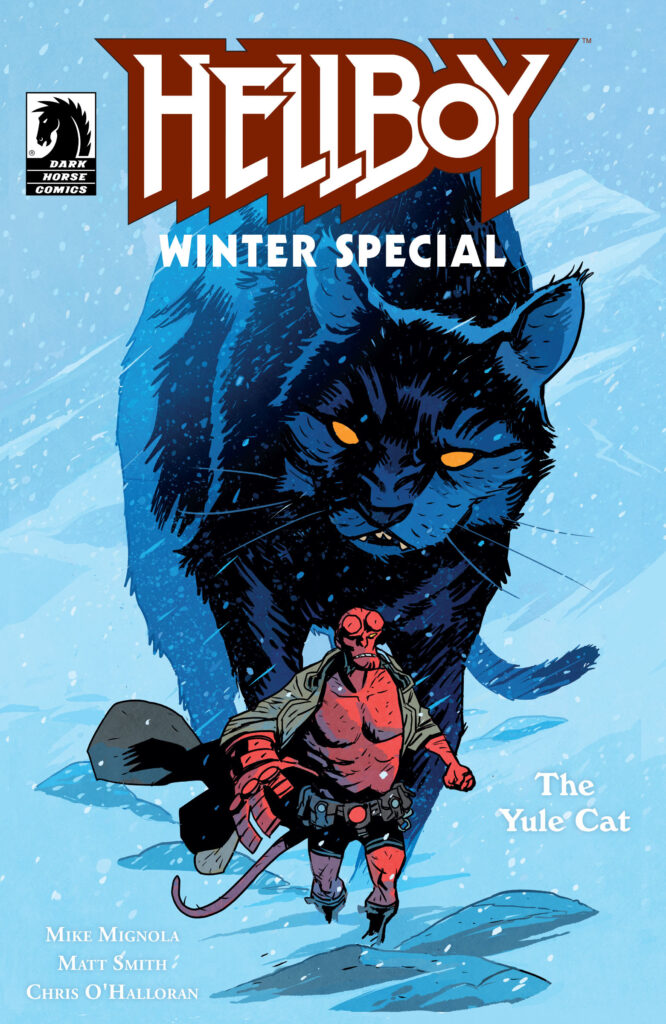 Hellboy Winter Special: The Yule Cat marks Hellboy's first visit to Iceland in the character's 30+ year years of publication. In the one-shot, Hellboy travels to Reykjavik, where children are disappearing and a giant beast has been spotted…could it be the infamous Yule Cat of Icelandic lore?

Dark Horse Comics press release
How's that for adding a little harrowing horror to your Holiday Season? If you're up for the hunt, Hellboy Winter Special: The Yule Cat will be on shelves this December the 6th. And as you can likely see from the above gallery, it's a book that will be delivered in two editions.
There will be a standard cover from Smith, plus a special variant edition from Hellboy creator Mike Mignola. Both should be out day and date, on the 6th.