Continuing the Ahsoka series of figures is Sabine Wren. Check out the latest Star Wars: Rebels character to make the jump.
Live action
Adapting more than a handful of animated characters to live action, Star Wars has been seriously deep-diving into its cartoon catalog as of late. In the new Disney-era it's all canon, but it's still interesting to see both the heroes and villains of The Clone Wars and Rebels making the jump.
The latest Disney+ show, Ahsoka plays off of both fan-favorite animated series' in a huge way, and that include both the title character and Sabine Wren. A Mandalorian, Wren was a key part of the Rebels crew, and has even been retconned as having created the Rebel Alliance's famous logo. Now teamed with Ahsoka, she finds herself a hunt for another old ally and Jedi in his own right, Ezra Bridger.
The Hot Toys version of Sabine Wren will feature a sculpt that reflects the likeness of actress Natasha Liu Bordizzo. And along with that, the 12″ scale figure will include what looks to be the level of articulation and accessories that the company is known for.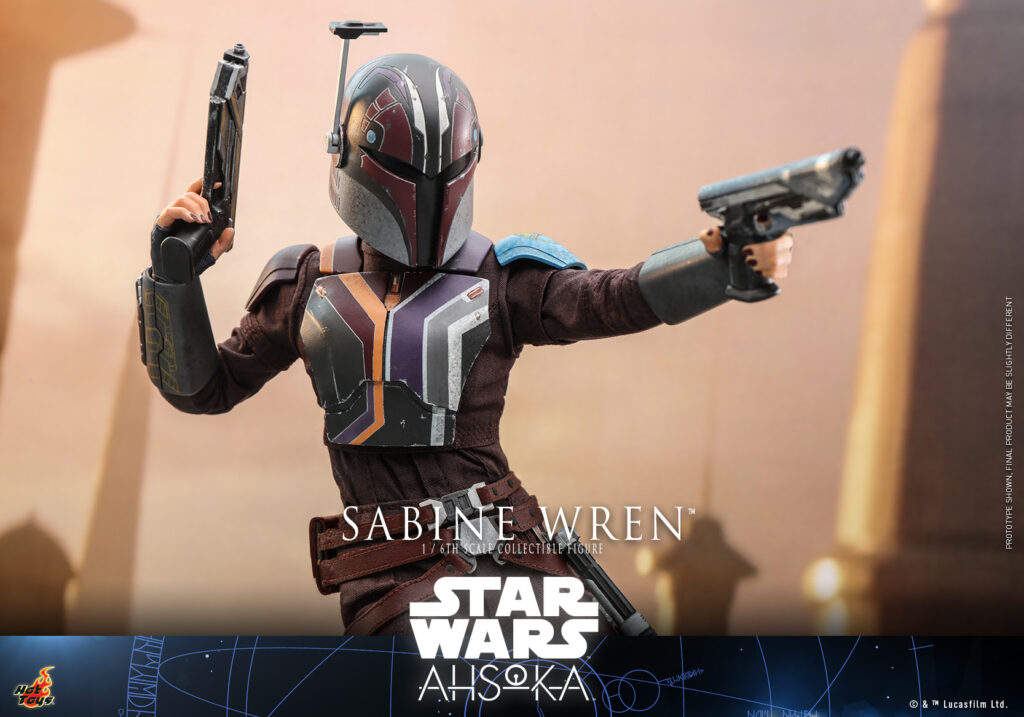 Celebrating the highly anticipated Ahsoka live-action series, Hot Toys is excited to officially introduce the Sabine Wren 1/6 Scale collectible figure for all Star Wars fans!

The Sabine Wren 1/6 Scale Collectible Figure features a new hand-painted headsculpt with incredible likeness of Natasha Liu Bordizzo in the role. The figure wears a meticulously crafted Mandalorian helmet and armor with unique paint applications, and a finely tailored, form-fitting under-suit. Sabine comes equipped with her signature pair of blasters, a lightsaber™ hilt, an LED light-up Ezra Bridger's lightsaber, an Ezra Bridger hologram miniature, and her adorable loth-cat™!

Now is the perfect time to have the Sabine Wren 1/6 Scale Figure by Hot Toys join your Star Wars collection! Available to pre-order now from Sideshow.

Sideshow Toys press release
Sabine Wren is scheduled to ship some time in the second half of 2024, and is priced in at $271 USD. She's up for pre-order now via Sideshow, and you can grab one for yourself by hitting the link above.