Remember those N64 wrestling games of yore? Well THQ Nordic and Yuke's definitely do, and those titles are the basis for AEW: Fight Forever.
Coming down the aisle…
It's been an interesting dev cycle for AEW: Fight Forever, which was created under a publisher and developer that should be well known to fans of the sport. I'm referring to THQ Nordic and Yuke's there, as the companies teamed for quite a few games back in the 90s and 2K's.
Well, THQ Nordic did under the plain ol' "THQ" banner anyway. Fast-forward to the present though, and the band is getting back together, albeit with a wild card thrown in.
That card, of course, is All-Elite Wrestling. AEW debuted back in 2019 and immediately grabbed quite an audience for itself. It got so popular, that it didn't take long before a video game was announced, though said game wouldn't actually appear until just now, with AEW: Fight Forever.
The action it presents will be instantly recognizable for fans of THQ's legacy titles, though it's not exactly the same as what developer AKI turned out.
Old made new
AEW: Fight Forever is cast in the mold of an N64 wrestling title. If you were wondering if that was the case, then I can definitely confirm that for you right off the top. It was apparently one of the points too, as the formula for that venerated franchise has been puzzlingly lost for decades at this point.
As mentioned, it's also the first game to spin out of All-Elite Wrestling, so it's instantly notable for a few things. But while basing a first offering on the bones of the aforementioned was a pretty fantastic idea for the brand's gaming debut, there's a lot more to it than just the shadow of the N64.
AEW, even though it's a wrestling company, has managed to differentiate itself quite a bit from the market leader in the time it's been around. It's much more open to bloodshed, it's obviously got some different pay-per-views and match-types, and it's of course got a roster that's as unique as possible given the state of contracts today. Fight Forever seeks to bring all of that to life for game fans, and it does so pretty darn well.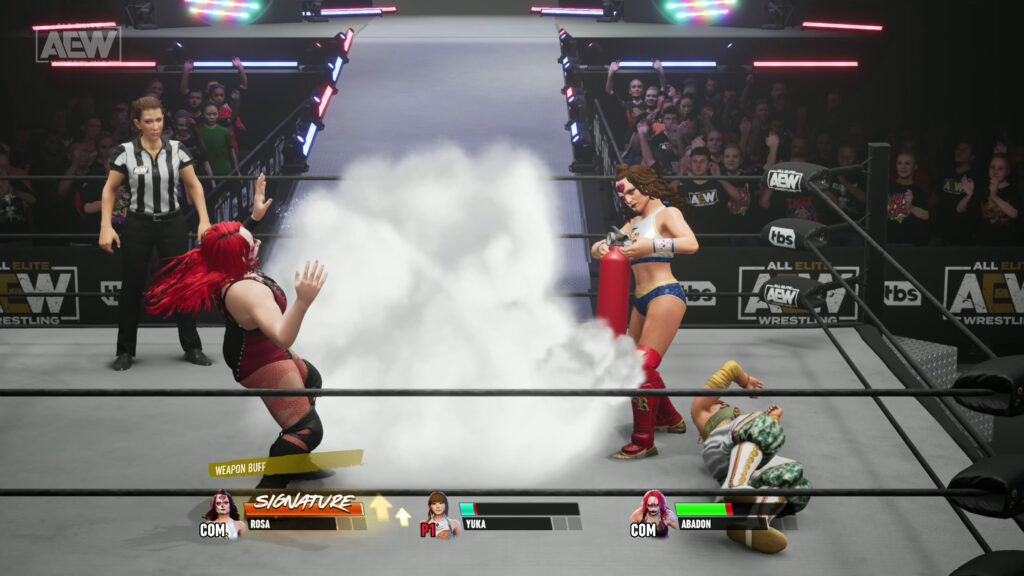 Modes and more
In addition to the full slate of singles, tag, and "rumble rules" Battle Royale "exhibition" matches, Fight Forever also brings online play and a pretty nice career mode to bear. The latter a loose retelling of AEW's first year too, complete with some branching options, so it's not just a series of random matches.
The Road to Elite actually sends your chosen grappler out into various cities for some sightseeing, fine dining, and even talk show appearances. He or she can also hit the gym, buy some gear and even make alliances or enemies. It's pretty cool, and is actually fun to play.
Oh, and you can play mini-games too. Available both via the main menu and from within the career mode, the mini-games are well realized, though are somewhat odd that they're present at all. If you're playing a wrestling game after all, you kind of just wanna wrestle.
Finally though, I have to mention the create-a-wrestler. It's not… great. As wrestling games go, Fight Forever's creation suite feels slim at best, offering relatively few options and almost no bells and whistles. If you're looking to bring past icons of the ring into your version of the company, or carry across those who work for other promotions, you're going to have a lot of problems. A lot.
It's nearly impossible to create passable stars thanks to the dearth of possibilities here. There isn't an ability to write on clothing or build custom designs for example, and even the hair and facial options are slim. This in particular is something that really needs to get focused on for future AEW titles.
Plays like a champ
As disappointing as the above is, we've gotta move on to Fight Forever's biggest plus: its gameplay. I know I mentioned this above, but it's absolutely worth its own segment.
Fight Forever plays like a dream for those who loved the classic N64 games I mentioned. You will literally be able to slip right back int playing it on the higher difficulty settings if you logged hours on No Mercy or WCW vs The World. For those who never indulged in those older games though, know that this is also an incredibly easy title to pick up and play.
AEW gives players punch and kick buttons, a run button, the ability to climb the turnbuckles, block and reverse moves, pull weapons from ringside, and of course pin your opponent for the 1-2-3. All of that should sound right in line with any other wrestling game really, but there's a big difference with its grapple button.
Unlike other wrestling games, once you engage a grapple in Fight Forever, you can select a move from one of three categories. That's a big difference between the N64 games I've been harping on, which have weak and strong grapples only. In Fight Forever, once grappled you have the choice of engaging a kick or punch-centric move, on top of something like a suplex or slam.
Getting deeper into a match, you'll want to pull off a 'signature' and then finishing move to put your opponent away. Those are based on your momentum meter, which builds as the match goes more and more your way. Once it hits one of those levels, first Signature and then Special, you either hit the d-pad or right analog stick (respectively) from the grapple to hit the move.
The control scheme here might seem more streamlined and simple than other games in the genre, and it is. But that's the beauty of it. The controls result in a slower and less chaotic game, and one that I feel the self-tag of "arcade" falls short in describing. I've always thought of the N64 games as being more strategic, and that's true for Fight Forever as well.
Real wrestlers, cartoon looks
Another fairly major way that AEW: Fight Forever differentiates itself is with its looks. Well, both it's looks and its sounds really, or lack thereof in certain in-game situations. But before we get to the latter, let's talk graphics.
As you can no doubt tell, Fight Forever eschews the need to get ultra-realistic. Instead of getting every crease in a grappler's face just right, this game goes almost in the complete opposite direction. And that's also in keeping with those classic 64bit titles.
Fight Forever does serve up varying body types, heights, and weights (which do impact some moves), but the overall look is more 'animated' than real-life. Personally, I love that, and prefer that kind of a look overall. But that said, it could conceivably be a negative if you don't. It's kind of up to your own preference.
But even with that design choice, all of the named wrestlers look like themselves. The animation is terrific as well, and the arenas look fantastic. But as I mentioned, that's on the visual side. On the sound side… meh.
The in-game set list isn't anything to write home about, though that's nothing new for a wrestling title. As for the themes, wrestlers personal tracks are only played in small bits through the limited entrance scenes. And while in-ring sound effects are great, with satisfying impacts and grunts, cut-scenes and such are almost all unvoiced.
Oh, and play-by-play and color commentary? Yeah, there is none. AEW has a fantastic booth, with the likes of Taz, Tony Schiavone, Excalibur, and one of the greatest booth guys of all time in Jim Ross. And yet, even with all of that talent, there's only an outro, where a very brief summation of the match is given. Make of it what you will.
Overall
AEW: Fight Forever is definitely an acquired taste, and it's got some bugs here and there as well. But that said, it's also undeniably fun. Even with the rough spots, the title's 'pick-up-and-play' nature makes it a solid wrestling option for fans of the sport, and a ton of fun for fans of this specific brand. A solid gaming-start for AEW.
A copy of this game was provided by THQ Nordic for this review
AEW: Fight Forever
Release Date: June 28th, 2023
Platforms: PC (reviewed), Xbox Series X|S, PS5, Switch, PS4, Xbox One
Publisher: THQ Nordic
Developer: Yuke's
MSRP: $59.99 USD
Almost there
Premise - 73%
Gameplay - 93%
Presentation - 80%
Are you a big AEW fan? If so, then you should definitely check out Fight Forever. This new grappler soars with a riff on the fan-favorite N64 controls and has a more cartoony look for its cast. Its major strike though, comes by way of the creation suite, which is woefully underrepresented, and makes building stars of the past (and present that aren't in the game) almost impossible.