Activision's ubiquitous shooter series has been involved with real-life veterans for a while, and it's diving back in with the new Valkyrie Pack.
To Valhalla
If you're a fan of Call of Duty, then chances are you know all about the associated efforts to help veterans. And yes, we mean real-life American and UK war heroes. The initiative has been around for a while at this point, and assists vets find post-enlistment employment in what can be a difficult job market.
Now there's something new to that end, and it's set to pull double-duty, delivering some cool digital goodies to fans. Not to worry though, the new Valkyrie Pack is very much still a part of the original Endowment program, and will both lend proceeds to help those in need.
It's just that it also includes some cool new DLC for the current crop of CoD titles. And as you might be able to tell from the name, the pack is all about showing appreciation for female service members.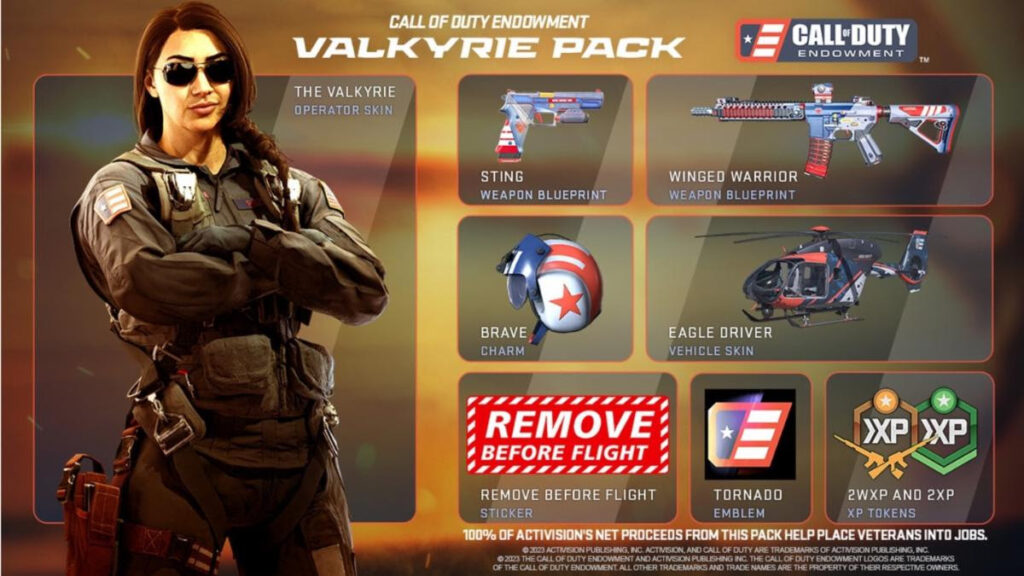 The Valkyrie Pack includes:
"The Valkyrie" Roze Operator Skin
"Sting" Handgun Blueprint
"Winged Warrior" Assault Rifle Blueprint
"Eagle Driver" Light Helo Vehicle Skin
"Brave" Weapon Charm
"Remove Before Flight" Sticker
"Tornado" Animated Emblem
One Double Player XP Token
One Double Weapon XP Token
Once again, sales of this new Call of Duty Endowment pack will result in contributions to the program itself. And with the aim of helping those under US and UK military banners find work, it certainly seems like a worthy cause.
The Valkyrie Pack is out right now for all versions of Call of Duty: Modern Warfare II, and Warzone 2.0. You can read more about it here, on the official CoD Blog.