Golf clubs, axes, knives aplenty, and maybe an electrical charge or two; Dead Island 2 is looking fantastic in its first full look at gameplay.
Dead again
This has been a long time coming, like a long time coming, but the formerly forgotten Dead Island 2 is finally coming. The game had been in a bit of development hell for ages if you remember, but was resurrected and is now on a collision course with consoles and the PC this spring.
While we've seen a bunch of screenshots and glimpses of the title in action, we finally got our first lengthy look at gameplay today. And in keeping with the old adage, it certainly seems as though the long development time has been a boon. Cause, quite frankly, Dead Island 2 looks great.
Armed with an array of weapons, each with their own unique, brutal fighting style and endless opportunities for upgrades, watch as slayer Dani meets Standard zombies (Walkers, Shamblers, Runners), Variant zombies (grenadier walkers), and Apex zombies (hyper mutated zombies), each one with its own horrifying powers and behaviors. 


Starring in the video is the slayer Dani, who hails from the mosh pits of County Cork, Ireland. Dani's unique slayer build – tenacious yet balanced – is well-suited to an agile style of combat. Her mission in this trailer? To try and reach the Halperin Hotel.


Players will also see how tapping into Curveballs and combining a powerful set of Skill Cards – which enhance abilities and create unique player builds – assist Dani as she hacks and slashes her way through the beginning areas of HELL-A.

Deep Silver press release
One note before we move on, as there are a few pieces of hardware seen in that above trailer that won't be available early in the game. Deep Silver says they were unlocked early, just to show off some of the cooler stuff.
FLESH and blood (and pre-orders)
As you can see there, not only does the game look great, but there's some serious dismemberment happening with those zombies. That comes as a result of Dambuster Studios' dismemberment tech, which they've dubbed FLESH.
Not just a happenin' term, FLESH stands for Fully Locational Evisceration System for Humanoids. And according to Deep Silver, that "means that crushing bones, slicing zombies, and melting flesh has never felt nor looked so satisfying." I can't disagree with that.
But before we wrap here, we have some pre-order info to go over as well. Deep Silver has revealed that Dead Island 2 will have a limited edition out there at launch called the Dead Island 2 HELL-A Edition.
That'll pack in some serious goodies, including:
Exclusive SteelBook® with game disc
Expansion Pass
Venice Beach Travel Map
Six Slayer Tarot Cards
Two Pin Badges
One Patch
Golden Weapons Pack
Pulp Weapons Pack
Character Packs 1 & 2
While that will all only be available via the LE, there's a bonus pack up for grabs too. And that will be good for anyone who pre-orders either version of Dead Island 2.
The Memories of Banoi (the original game's locale) pack includes:
Banoi War Club
Memories of Banoi Baseball Bat
Weapon Perk – Balanced
Personal Space Skills Card
And while we're on cool stuff, there's a figurine as well, of one of the game's slayers, Amy. That's available as a general release, albeit via Dead Island 2's pre-order page only. You can find it here.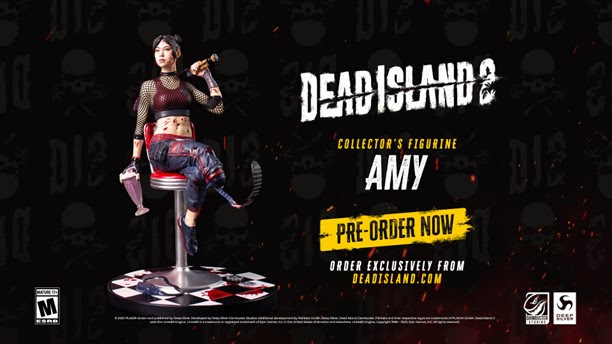 Dead Island 2 will be out for Xbox and PlayStation platforms plus the PC on April 21st, 2023.