Beauty and the beat? That's the idea behind longtime PC hardware company Creative's brand new Pebble Pro speakers.
Droppin' that beat
There's no shortage of options these days as goes the world of PC speakers. Whether you're looking for something that's tilted towards gaming or more towards music and movies, PC speakers have come a long way from the beige rectangles of decades gone by.
One thing though hasn't changed in years and years: Creative. A company that's been making PC speakers (and plenty of other things) since the early 80s, Creative is a brand that almost every PC fan has had something from at one point or another. There's a reason for that too, and it's not just ubiquity.
Creative usually produces quality equipment, something I can personally attest to. I've had quite a few pieces from the company, and while said tech might not be the pinnacle in whatever category, it's been my experience that it typically delivers.
With the Pebble Pro speaker set, Creative has looked to do the same again, but with a diminutive footprint, and little something extra. Namely, that the little devices add some interesting tech, and a little RGB color to the situation.
Yes, RGB (natch')
The Pebble Pro has a sharp design, and makes an impact at first glance. The set isn't squared-off and plain looking, but instead is rounded, with a flat, upward tilted face at a 45 degree angle. Aimed right atcha.
It's a look that gives the system a unique form-factor, which looks sharp on a desktop. Both faces hold a similar speaker setup, while the right-hand unit has the control suite (with stereo and headset ports on the side).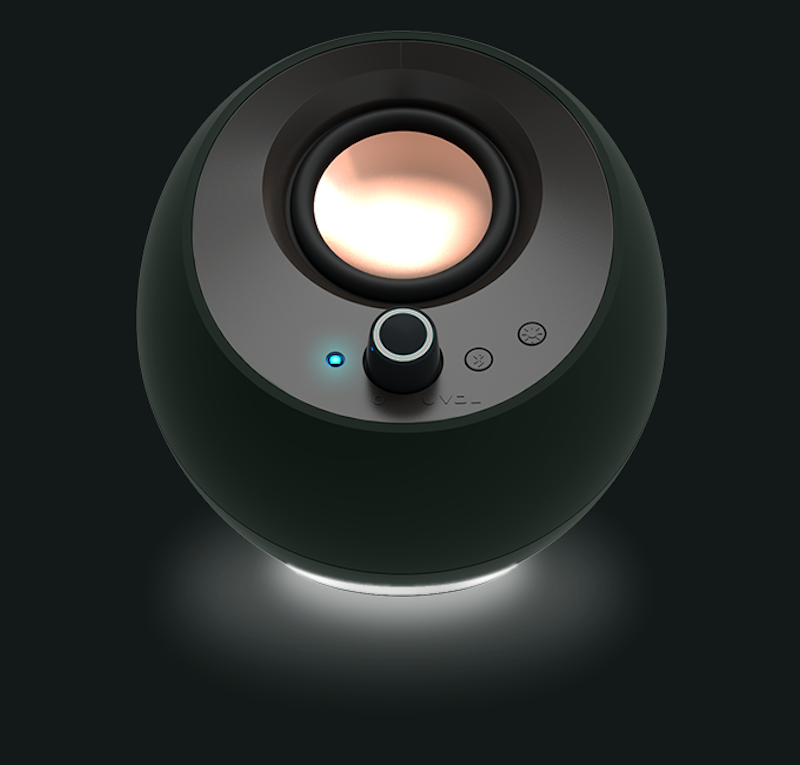 All of the wiring is in the rear, as you likely expected, which keeps the sleek design looking great, and the backs of both units house lil' subwoofers. Yeah, while these are smaller speakers, they do have a bit of a punch. And as for the aforementioned RGB lighting, that's on the bases.
The bases of both speakers have a slight ring around them which light up. It isn't 'punch you in the face' stuff, keeping with the overall design sense, but the lighting is a nice addition nonetheless. And you also get a trio of modes with pulse, cycle, and single color displays possible.
Easy as 1, 2, 3
While the Pebble Pro looks great, it also offers a number of ways to connect, and even get a little more punch out of it. Users get to pick from Bluetooth, USB C, and standard stereo cable.
It's great to have the options, though there are some advantages to using the USB connection to power the speakers, while streaming via Bluetooth. Namely, that you get that aforementioned "punch" if you do.
In order to do that you'll need a separate 30W power adapter (also sold by Creative), but the buff will grant you greater volume levels. So if you're looking at the Pebble Pro but like beefier audio levels, you might want to think about it.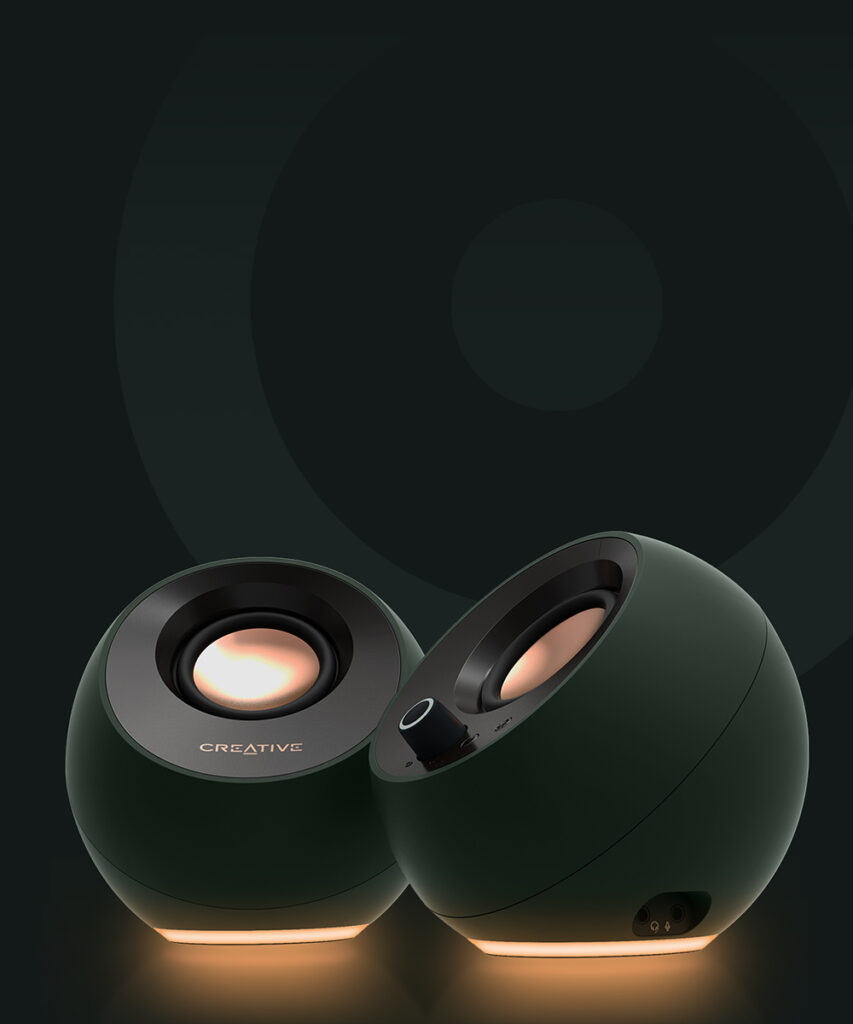 Other than the above though, that's kind of it with setup. There's no software to fiddle with, just plug and play. The Pebble Pro will handle system volume and the built-in RGB rings all by itself.
Those operate just by pressing a button on the right speaker, by the way. That allows you to select the effect you want, and also use the volume dial to cycle through colors (if you just want one). Super easy.
It'll get the job done
Let's get this out of the way first; the Pebble Pro won't blast you out of the window and isn't a surround sound system. And it won't have you looking like the THX guy either, plastered to a chair with blown-back hair from sheer power. But hang on, keep reading.
Even when plugged in, the system isn't overpowered, but that doesn't mean the quality is bad in any way. The Pebble Pro definitely delivers if what you're looking for is something with solid general performance. The little set dishes out nice and clear audio, for whatever you're watching or playing, and also has some nice effects.
The built-in BassFlex technology gives that performance a significant kick. Though there's no subwoofer included, the speakers themselves work to give a nice spread of "low frequency" sound. So while you don't have the pounding hardware, you still do have some deeper tones.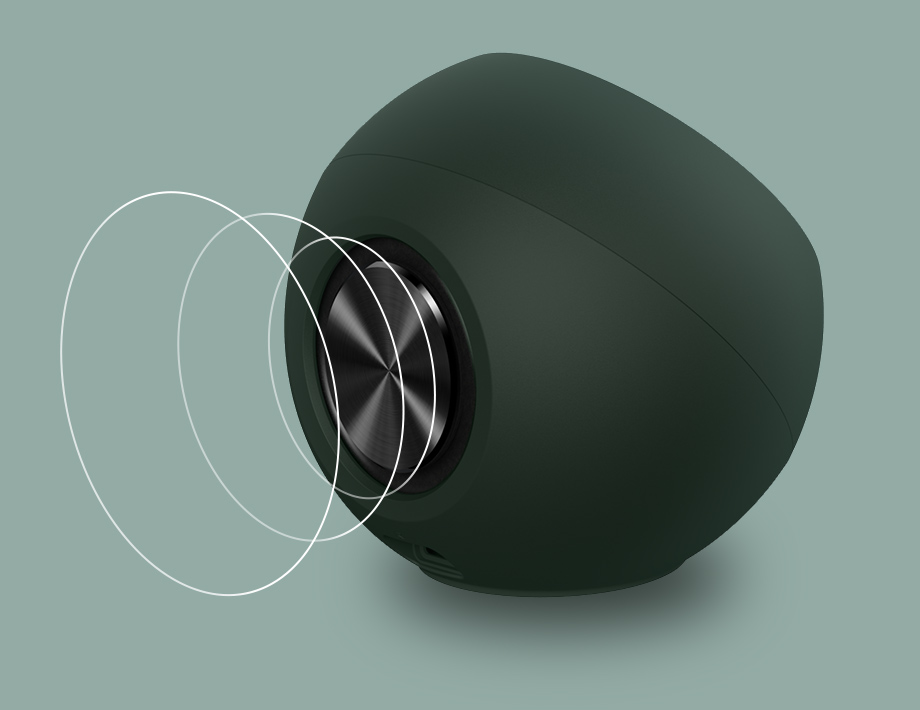 On top of that, they also include something that Creative calls Clear Dialog audio processing. And basically what you're looking at with that, is a protocol that nudges vocals to the front, so spoken words get the nod over sound effects (for example).
I've never actually had something that did that before and the effect is neat. It's another nice little inclusion in a set of speakers that's deceptively-featured.
Overall
Whether the Pebble Pro works for you or not is pretty much dictated by what exactly you're looking for. If you read through the above, then you should have the sense that you might not want to look its way if you want something with surround sound, for example.
On the flip side, if you're looking for something that's smaller, offers some neat effects and delivers great 2.0 performance with some surprising kick, it's a terrific option.
A review unit was provided to BG by Creative for this review
Pebble Pro speakers
Release date: November 16th, 2022
Platform: PC
Manufacturer: Creative
MSRP: $59.99 USD
Simplicity and performance
Form factor and design - 85%
Ease of setup - 98%
Proficiency - 83%
Looking to pick up a kicking set of speaker for your PC, that has a smaller footprint? Then you might want to check out the Creative Pebble Pro, which serves up terrific 2.0 audio, with a bit of bass kick, and some cool tech that pushes spoken words to the front of your audio. Oh, and did I mention it's ridiculously plug-n-play and had RGB lighting?