Tactical role-playing goes supernatural. From 2K and the the strategic-royalty at developer Firaxis, Marvel's Midnight Suns is finally here.
Sunrise
While the name might be a little different, Midnight Sons/Suns has a deep history with Marvel Comics. The title was a team-up book, that brought together Marvel's various supernatural heroes like Blade, several different versions of Ghost Rider, and Morbius.
The first story with the crew spawned an ongoing, as well as a specific trade-dress the started to appear on comics featuring the included heroes. Yes, it was that popular, and I can personally remember it very well as the books were a highlight from my own weekly pull-list.
While it's been dormant for a while, that didn't stop 2K and Firaxis from digging in, and using the themes to make a new version of the Sons. Now called the Midnight Suns, this new video game adventure includes much more than Marvel's mystics and horror-branded heroes.
But even so, long time fans should expect some very familiar themes, including Lilith and what looks to be the Darkhold.
Oh, and Metallica.
"I can't overstate how excited we are to finally bring Marvel's Midnight Suns to our fans, whether you are a hardcore Marvel comics reader or a longtime tactics veteran," stated Jake Solomon, Creative Director at Firaxis Games for Marvel's Midnight Suns. "Thank you to everyone who has joined us on our journey to bring this game to life."

Jake Solomon, Creative Director at Firaxis Games for Marvel's Midnight Suns
Getting strategic
As you can see, this isn't your typical 'superhero game'. Midnight Suns is a turn-based strategy title, with RPG elements. Being from Firaxis, the makers of XCOM, what else would you expect?
While that's true though, it's also set up to be a game that "rewards clever thinking with Super Hero flair". So basically, you can probably still expect some over the top attacks and lots of crazy stuff, you're just going to have to think strategically and calculate your moves if you want to come out the victor. And of course, things are a little darker than you'd usually find in a Marvel title. Maybe a lot darker.
2K Promises "an immersive personal story that brings familiar heroes to an unfamiliar world, filled with the supernatural and the mystical". Part of that are the dark reflections of Marvel heroes that you see in the trailer, called Fallen Heroes. Though the good guys will have some serious punch as well, as Hulk has been confirmed as being playable.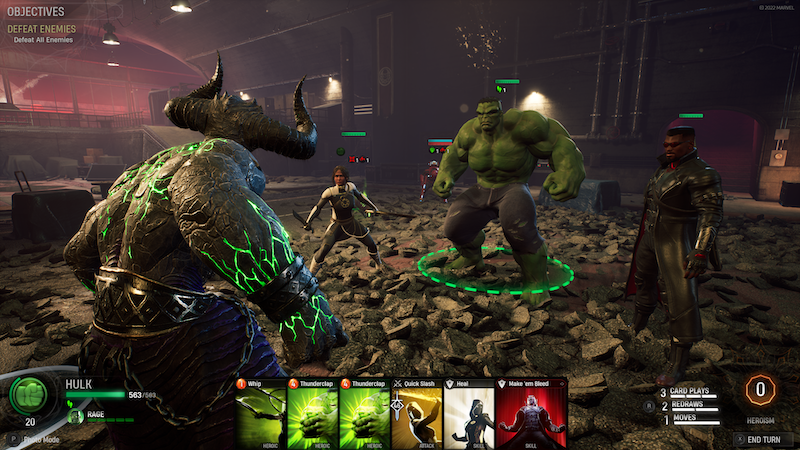 Speaking of, while you will get to field an army of Marvel heroes in combat, you'll be technically playing as a brand new one. Called The Hunter, this new character is "customizable" and a long-time foe of the wicked Lilith. So it's kind of a way to forge your own Marvel superhero story, which sounds pretty slick.
Marvel's Midnight Suns is available right now for the Xbox Series X|S, PS5, and PC, with PS4, Xbox One, and Switch editions coming later. You can grab a copy in several flavors too, with standard, Enhanced, Digital+, and Legendary Editions all hitting. Of course, there's a Season Pass as well.