The Inhabitants are at it again, and going all out for the Switch version of Oddworld: Soulstorm. Collector's Editions and pre-order bonuses ahoy.
Oddtimized
Today, Microids and Oddworld Inhabitants announced that the award-winning action-adventure platformer Oddworld: Soulstorm is coming to Nintendo Switch as the Oddtimized Edition. Fans who pre-order the Limited Oddition or the Collector's Oddition at participating retailers will receive the game's Original Soundtrack and a Digital Artbook.

Oddworld Inhabitants press release
As mentioned above, the Collector's Edition of Soulstorm is pretty chunky. If you're a fan of the series, you might want to pre-order and snag those bonuses too.
Here's what's included: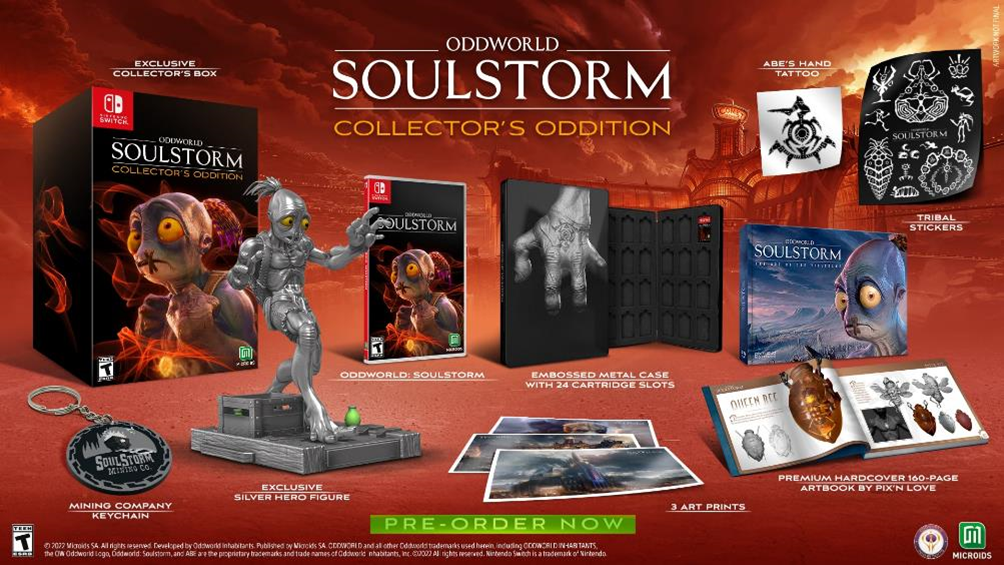 A Unique Collector's Box
Oddworld: Soulstorm's standard edition for Nintendo Switch
A collectible metal case with 24 cartridge slots
An exclusive 9-inch (22 cm) silver figurine of Abe, Mudokon hero
A premium 160-page artbook by Pix'n Love Publishing
An exclusive Mining Company keychain
Three art prints
Ancient Mudokon Tribal stickers
Abe's hand tattoo
There is no release date just yet for Oddworld: Soulstorm on the Switch, though it is up for pre-order now (hence the bonuses). The game is out now though, for Xbox and PlayStation platforms, as well as the PC. And you can check out our review of the original PS4 release, here.