Time to catch up on your scares and haunts. Volumes 1 and 2 of Tales from Harrow County are getting a hardcover special edition.
Hardcover terror
Harrow County, crated by Cullen Bunn and Tyler Crook, was a fresh take on some familiar horror themes. The book originally centered on Emmy, a young girl with a whole mess of supernatural problems.
That original arc is well over at this point though, and a different Harrow has been rolling. If you've missed out, or if you're a big fan looking for a new bookshelf addition, then you're going to love what Dark Horse is cooking up.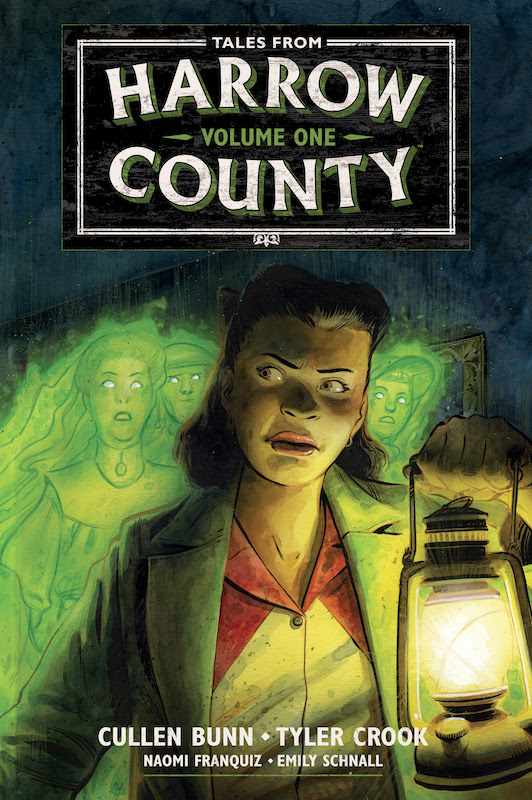 Volumes 1 and 2 of that new expanded universe will be included in their entirety, in a new jumbo tome. That means Death's Choir and Fair Folk, featuring art from Naomi Franquiz and Emily Schnall.
In Death's Choir, ten years have passed since Emmy exited Harrow County, leaving her close friend Bernice as steward of the supernatural home. World War II is in full swing, taking Harrow's young men and leaving the community more vulnerable than ever—and when a ghostly choir heralds the resurrection of the dead, Bernice must find a solution before the town is overrun.


In Fair Folk, fresh off the loss of her goblin friend to a strange portal, Bernice must weigh her responsibilities as protector of Harrow County with her desire to get her companion back safe and sound. But the past weighs heavily and the fair folk use Bernice's memories against her.

Dark Horse press release
Look for Tales from Harrow County Library Edition in comic shops on October 5, and in bookstores on October 18, 2022.