With the blockbuster film in theaters, collectible maker Hot Toys has a brand new Doctor Strange coming up, ripped from the film.
Multiversal
Continuing with the multiverse theme of Marvel's latest film and TV offerings, Doctor Strange and the Multiverse of Madness brought a lot of surprises to moviegoers. Aside from the cameos, the titular Doctor had a new look as well, and some new spells. All of that makes its way into a brand new figure from Hot Toys, set to arrive in 2023.
Cast in the usual Hot Toys style, Doctor Strange is in the 12″ scale, and features the likeness of actor Benedict Cumberbatch. As usual too, he's loaded up with a finely tailored costume and a bevy of accessories.
The Doctor Strange 1/6 Scale Figure features a newly developed hand-painted head sculpt and a meticulously tailored screen accurate recreation of his layered costume. The figure also includes a new Cloak of Levitation with a blue patch, multiple accessories including the Book of Vishanti, a pair of handcuffs, his sling rings, the Eye of Agamotto, a selection of interchangeable mystic arts effects, and much more!

SPOILERS AHEAD!

Following the movie's release, Hot Toys have also teased an additonal Doctor Strange head sculpt with a third eye on his forehead, as seen in the post-credits scenes.

Sideshow Toys press release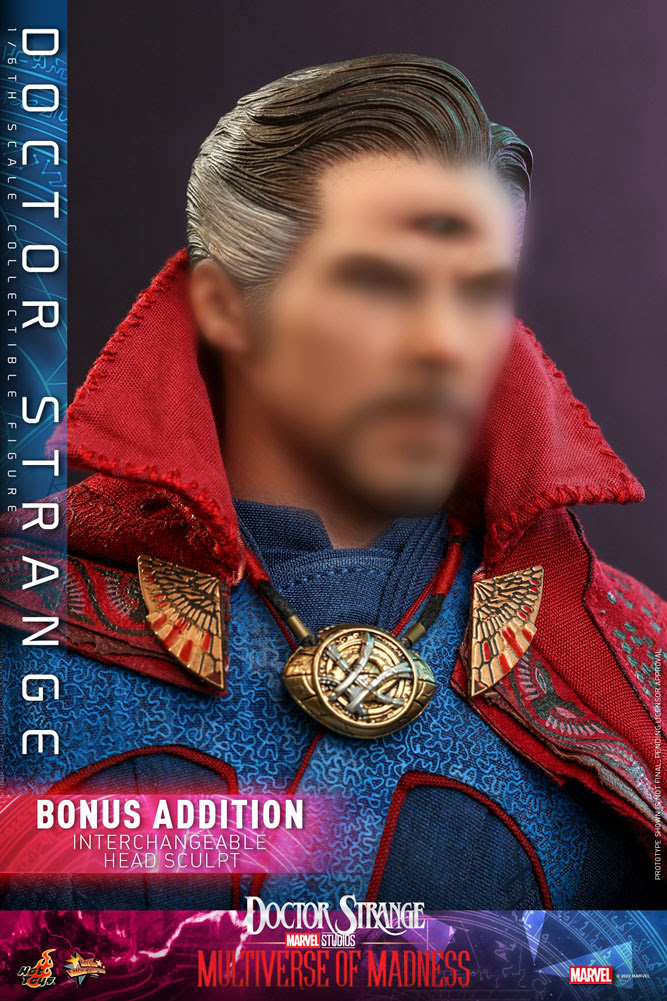 Hot Toys newest Doctor Strange ships some time in the second half of 2023, and is priced in at $335 USD. You can pre-order him right now via Sideshow Toys, here.