If you're a digital comics fan, then this is a deal you might not want to pass up on. DC Comics' Infinite service is half price for a very limited time.
Read on reader
It seems like the bulk of the digital comics news that we hear about is of the Marvel variety, but DC actually has a service too. And from the looks of it, it's pretty well stocked with both classic and new titles.
DC Comics Infinite is an online comics service that allows subscribers to read as much as they like, with new books arriving all the time. And these aren't just 'as they're released' comics either. As you'll see, there are a whole bunch of classics making their way to the platform this month.
New titles include Superman '78, issues from the original 90s runs of Blood Syndicate, Icon, and Hardware, and lots and lots of modern books from the 2016 through 2021 period. So yeah, there's a lot to Infinite if you love the DCU.
According to the press release too, there's also access to exclusive goodies, and you don't have to be a subscriber to get 'em. Infinite offers up a store's worth of stuff, including sportswear and Funko Pop!s for both free and paid members.

Speaking of, free membership also gets you downloads of the free content infusions that DC provides. This month that means a trio of Bat-titles, each one playing a part in influencing the new The Batman movie. Those would be Batman: Ego and Other Tales, Batman #404, and Batman: The Long Halloween #1.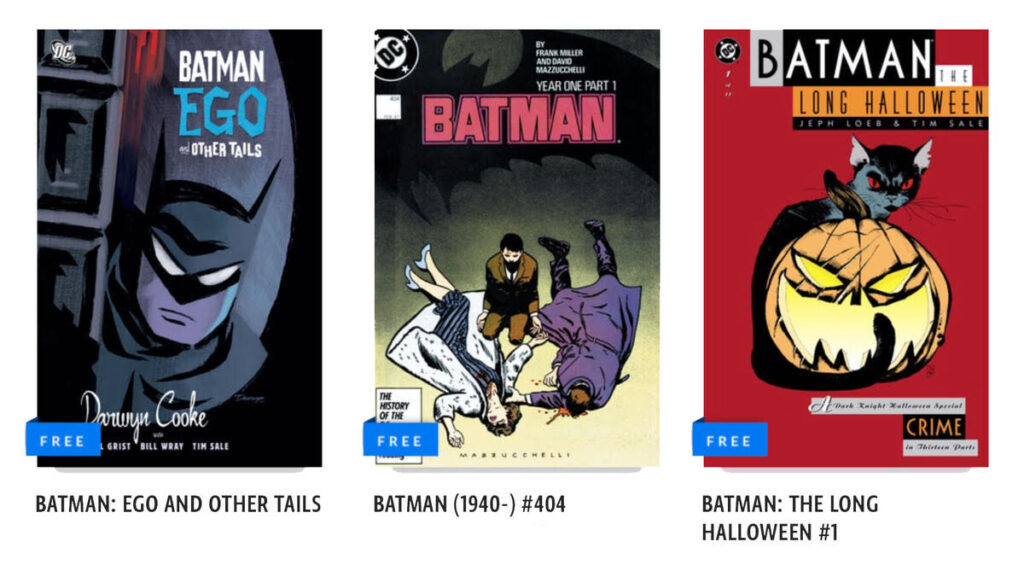 But let's get back to the offer, since that's what Infinite is showcasing today and tomorrow. Yep, it's a small window, but it's also a big discount. For this 2(ish) day stretch, fans can get a monster 50% off of new subscriptions with the discount code FLASHSALE31.
HOW TO REDEEM YOUR CODE
Click JOIN NOW to create an account or LOGIN
On plan selection screen, click ANNUAL
On payment screen, click "Add a promo or gift card" to APPLY your promo code (FLASHSALE31)
Finally, enter your payment info, and click START FREE TRIAL
So if you've ever thought about becoming a member, now'd likely be the time to get that rolling. Again though, be quick about it. The sale only lasts til March 2, 2022 at 11:59 pm Pacific.