Yes, at long last Bloodborne is back… in comic book form. The special issue comes courtesy of Titan Comics, and is set to be a free addition to this year's FCBD.
Passive souls-like action
Bloodborne was a souls-like, for the uninitiated. A tough-as-nails title in the vein of Dark Souls, Bloodborne threw monstrous enemies at players, who portrayed "Hunters". Their goal was to purge a vicious plague from the streets of Yharnam, the game's setting.
While it was pretty popular, the game series has pretty much stalled out after just its first installment. The last time a followup was rumored, it had been that the game was shifting away from creator From Software. But again, that's all rumor as nothing has been confirmed in any way.
But if you've been one of the throngs of fans waiting for word, you might be interested in this new book from Titan Comics. Following up on the events of the game, Bloodborne will have a Free Comic Book Day edition for 2022. The issue, from writer Cullen Bunn, will lead into a new series for the IP, debuting this May.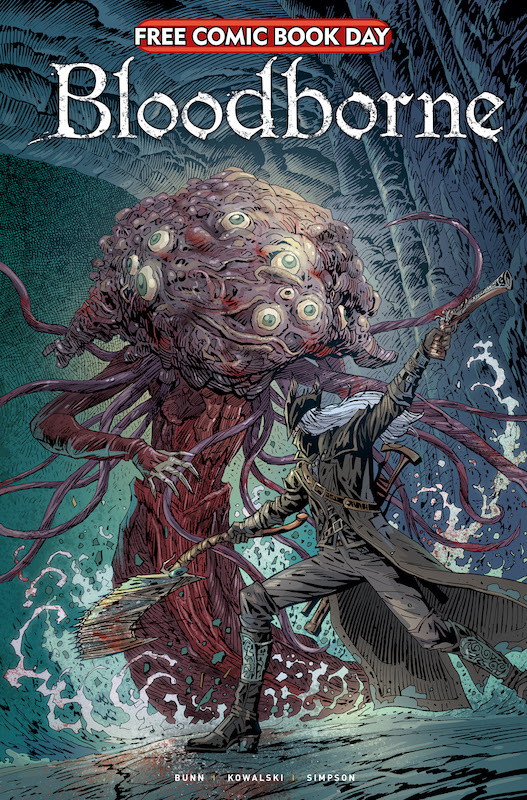 EXCLUSIVE LEAD-IN TO AN EPIC NEW SERIES – LAUNCHING MAY 2022!

ENTER THE CITY OF YHARNAM THROUGH THE EYES OF ITS CITIZENS, WHEN NEW HUNTERS TAKE TO THE STREETS TO FIGHT AGAINST THE CRUEL AND UNUSUAL EPIDEMIC THAT HAS GRIPPED THE CITY. IN THE BLACK OF THE NIGHT, FAMILIES AND FAITH WILL BE TESTED…

BASED ON THE CRITICALLY-ACCLAIMED BLOODBORNE VIDEOGAME!

Titan Comics press release
Bunn will be penning the FCBD edition of Bloodborne, which will feature the talents of artists Piotr Kowalski and Brad Simpson. Actually, it's the same creative team on the proper series, so the FCBD edition should be a good tease for what's to come.
From the press release, it seems like the series will be opening up in the same month as the Free Comic Book Day edition, this May. So presumably, you'll be able to get the free issue right before a #1 hits stores. That's to say, if your LCS is participating in the annual comics-event.
If they are, then watch for Bloodborne on May 7th.