Put on your party hats as it's time to celebrate 25 years of Pokemon with Pokemon 25: The Album!
In the very depths of our hearts, we all have memories tied to Pokemon: whether it's collecting the trading cards, playing the video games on the Game Boy and Game Boy Color, or if you're like me― ordering the books from Scholastic. As a kid of the '90s, I used to get excited when my homeroom teacher would hand out the book order flyers as it meant one thing— new books! And getting new books as a child felt like Christmas morning to me. I remember looking at the flyer and seeing what would catch my eye for the month and the novelization of Pokemon 2000 was one of them.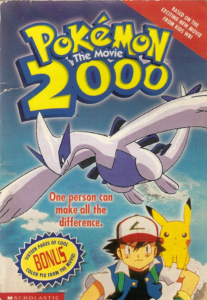 After I got the book I read it in my bedroom cover to cover and was swept away by Ash's many adventures. I'm sharing this story with you because Pokemon has grown up alongside us and continues to touch our children's generation. I'm hoping they get to create many wonderful memories just like we did and if they haven't already well, Pokemon 25: The Album is a great way to start!
Pokemon Is Turning 25?!
I admit that I don't keep up with news about Pokemon too often, but on the morning of October 15 I was just spending my morning as I normally do but when I checked my email I noticed one subject line that piqued my curiosity. Pokemon 25: The Album is now available! I tilted my head to the side. My brain wasn't registering that Pokemon was turning 25 but once it did I immediately started listening to the album and I was pleasantly surprised. I began to lovingly embrace the celebration of Pokemon. Pokemon 25: The Album is something special because it brings together artists from all different backgrounds just like it does people.
When I was listening to this album it made me stop to think about our world. We may not always agree on everything, but the love of Pokemon and what this franchise has given us for 25 years is a reminder that we can shift our focus and come together.
Electric! You've Got The Power Now
Pokemon 25: The Album is such a heartfelt way to celebrate Pokemon and if my tiny apartment had ears I'm sure it would agree! I had this album on full blast while I carried on about my day but there was one song that I had on repeat, and it was Katy Perry's Electric. That song was joyful, hopeful, and in an almost mystifying way breathed new life into my well, life. I've faced a lot of adversity lately but hearing this song made me feel better, and if we think about our Pokemon journeys that we had as kids and (maybe) continue to have we are encouraged to get back up when we are knocked down. Electric is my favorite song and a great way to open up the album with positive vibes.
"Who's That Pokemon" In The Music Video?
Some of the music videos that accompany the songs are not only super creative but they contain Pokemon in them and it's so adorable— I nearly died of cuteness overload and it was a welcomed surprise. I don't watch music videos that much but who wouldn't want to see Pokemon? It almost made me think that they were real and living among us. I looked forward to watching some of the music videos just to see what Pokemon was included; almost like when you watched the show and they had the "Who's That Pokemon?" segments.
Final Thoughts
Pokemon 25: The Album is a bright and joyful album that has something for everyone, and doesn't disappoint.
Pokemon 25: The Album is available digitally now but according to the official press release it will also be available as a special colored vinyl edition in February 2022.
Joyful
Music/Lyrics - 81%
Visual Presentation (Music Videos) - 90%
Pokemon 25: The Album is a loving celebration of Pokemon and gives us a chance to relive our childhood Pokemon memories.