Amazon's Prime Gaming is getting October off right, with a number of big time freebies like Star Wars Squadrons, Ghostrunner and more.
Top level
October is looking like a big month for Prime Gaming subscribers, with a bunch of great PC games up for grabs. And while fans usually get some good stuff out of the service, this month is a little extra special.
Not only is Star Wars Squadrons a part of the free-game list, but so is Alien: Isolation, Ghostrunner, and a bunch more. And that's before we even get to the bonus DLC's and add-ons.
STAR WARS: Squadrons – Coming in October, players can master the art of starfighter combat in the authentic piloting experience, while simultaneously feeling the adrenaline of first-person multiplayer space dogfights alongside your squadron.
Alien: Isolation – Coming in October, players can discover the true meaning of fear in the survival horror game, set in an atmosphere of constant dread and mortal danger.
Ghostrunner – Developed by Polish developer One More Level and published by 505 Games, Ghostrunner offers a unique single-player experience: fast-paced, violent combat, and an original setting that blends science fiction with post-apocalyptic themes.
Song of Horror Complete Edition – Fear the Presence, a mysterious entity you cannot fight: stay alert, hide and breathe slowly in the third person, fixed-camera survival horror adventure.
Red Wings: Aces of the Sky – Accompany the legendary Red Baron and cheat death on your way to victory in the arcade action game that puts you in the middle of World War I aerial battles.
Wallace & Gromit's Grand Adventures – Enter the colorful world of West Wallaby Street in a series of four cracking adventures brought to you by Aardman Animations, the creators of the Wallace & Gromit animated films, and award-winning Telltale Games.
Blue Fire – Embark on an extraordinary adventure through the perished world of Penumbra to explore unique temples filled with increasingly difficult 3D platforming challenges, diverse enemies, quests, collectibles, and more.
Tiny Robots Recharged – Solve a legion of puzzles and riddles in this supreme adventure escape game.
Whiskey & Zombies: The Great Southern Zombie Escape – Jump into the comedy-adventure brawler/stealther set in a different kind of apocalypse where the only thing that kills the virus is moonshine whiskey.
Secret Files 3 – The dream couple Max and Nina have announced their forthcoming wedding in the final installment of the Secret Files trilogy.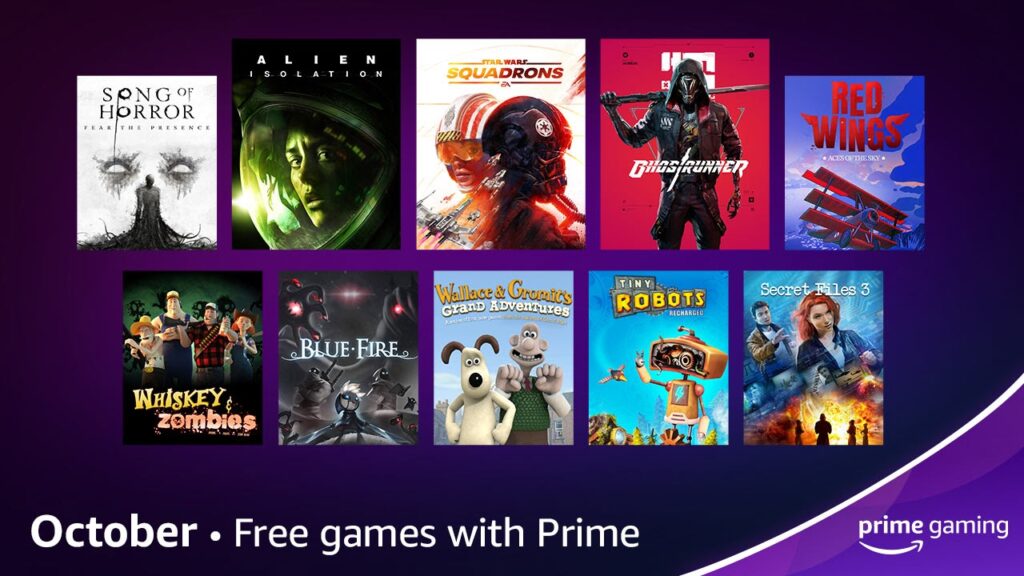 The full calendar
As mentioned, there's a lot more than just full games. Prime Gaming does this monthly, and it's usually an impressive selection of free add-ons and such. This month is no exception, so scroll down and see what's coming up, complete with dates and links.
Now Available Brawlhalla – Shogun Bundle: Shogun Koji Skin (including Sword and Bow Weapon Skins), Koji Legend Unlock, Dumbbell Curls Emote, Destiny's Way Bow Skin
Now Available Call of Duty – Bogged Down Bundle, World Series of Warzone Summer 2021 Bundle, World Series of Warzone Bundle
Now Available Call of Duty Mobile – 1x Epic HBRa3 Assault Rifle with Moonstone, 1x Rare Abominable Calling Card
Now Available Dauntless – Arcslayer Chainblades Skin
Now Available Destiny 2 – Dark Horse Exotic Bundle: Dark Horse Exotic Sparrow, The Bandwagon Exotic Ship, Rust Punk Shell Exotic Ghost, Hold On Legendary Emote
Now Available Fall Guys – Merry Mastodon costume + 6,500 Kudos
Now Available Free Fire – One-eyed Bundle (Costume)
Now Available Paladins – Omega Dredge
Now Available Rainbow Six Siege – Collab Drop – Fragment
Now Available Rogue Company – Good Migrations Weapon Wrap Bundle
Now Available SMITE – Sacred Arrow Rama
Now Available Warframe – VERV EPHEMERA
Now Available Last Chance to Claim Knockout City
October 1 Free Games With Prime – Ghostrunner, Song of Horror Complete Edition, Red Wings: Aces of the Sky, Wallace & Gromit's Grand Adventures, Blue Fire, Tiny Robots Recharged, Whiskey & Zombies: The Great Southern Zombie Escape, Secret Files 3
October 1 Last Chance to Claim Sam & Max Hit the Road, Candleman The Complete Journey, Puzzle Agent, Secret Files 2: Puritas Cordis, Tools Up!, Unmemory
October 4 League of Legends – Mystery Skin Shard
October 7 Last Day on Earth – Rank III Corgi Puppy
October 13   Kapella (Character)
October 15 Legends of Runeterra – Epic Wildcard
October 27  Free Fire – Weapon Royale Voucher (x5) 
October 28 World of Tanks – High Voltage Bundle