The Princess Bride figures are heading to stores soon, and McFarlane Toys has announced that you can now order direct, with a November ship date.
Inconceivable!
No, he's not in the first wave of The Princess Bride figures, but a little "inconceivable" is always apropos. And goes double for an article about the first wave of The Princess Bride action figures.
A surprise announcement from McFarlane Toys last month, the cult classic film is indeed heading into its first toy line. Though we don't actually know if there'll be more than a single wave of these, the initial offering is pretty stacked.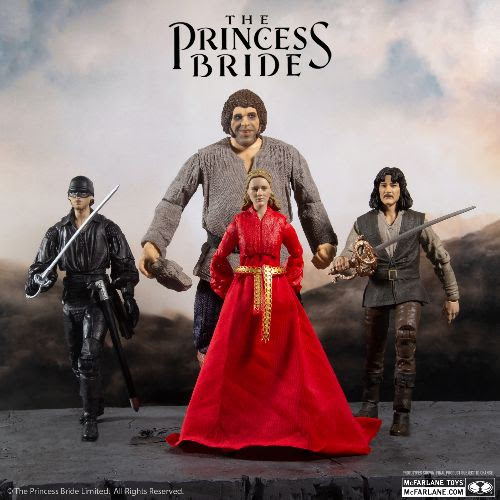 Wave 1 includes Wesley as The Dread Pirate Roberts, Princess Buttercup, Inigo Montoya, and *of course* Fezzik. All 4 figures are looking terrific, and like they just stepped off the screen, with some great sculpts.
And while this wave is available for purchase from just about every online toy shop, the manufacturer has now announced that they're ready to go if you prefer buying direct too. McFarlane Toys' online shop has all 4 available for pre-order, and each has a (tentative) November ship date.
The complete set is actually on sale right now too, so if you want all of them, you'll get 'em for the discounted price of $97.72 USD. If you just want one or two, the standard-size figures are priced at $24.99 USD, with Fezzik clocking in at $39.99 USD. That's 'cause he's a Mega Figure. It is Andre the Giant you know.
Ready to order? Check 'em out here.