Looking like it might be a surprising title, is racing game Hot Wheels Unleashed. But its post-launch plans might be even more interesting.
Pop
As in 'pop culture', because there are a ton of licenses being worked into Hot Wheels Unleashed for its post-launch. While the game is already pretty soaked in the stuff, with it being Hot Wheels and all.
Rolling forward, Hot Wheels Unleashed will incorporate brand new Hot Wheels vehicles, but also a laundry list of huge licenses. Those include "Barbie, DC, Masters of the Universe, Street Fighter, Teenage Mutant Ninja Turtles and OEMs like Aston Martin, BMW, McLaren™, and many others".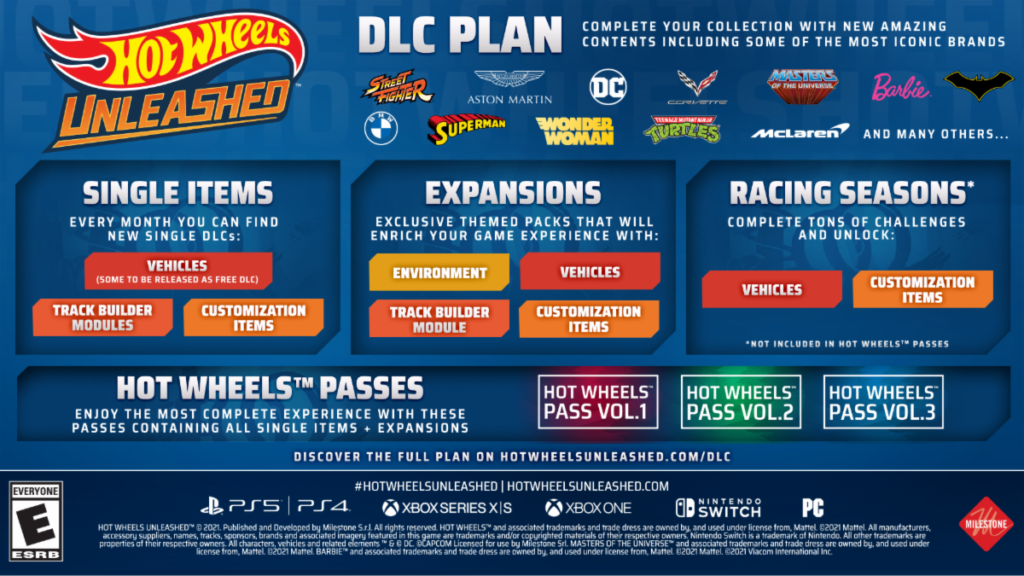 As you can see there in that info-graphic, the fun starts with Vol.1 of the Pass. In that collection, you can expect to find 10 additional vehicles, from "Barbie, DC, Street Fighter and Teenage Mutant Ninja Turtles". Also included will be a trio of customization packs and 3 "track builder modules".
Lots of stuff there, but there's even more. The first pass will also include a special Batman expansion. Yes, expansion, though there's no further info on that just yet. Expect more to come in the near future on that, and on Pass 2 and 3.
Hot Wheels Unleashed launches on September 30th, 2021, for the PS4, PS5, Xbox One, Xbox Series X|S, Switch, and PC.