Halo fans, get ready, because the Chief is finally (no foolin' this time) ready to make his comeback. Oh, and there's a new Halo Xbox Series X coming up too.
Cue the monks please
Yes, it's really happening. You're not dreaming. You might've sat through it missing the launch of the Series X|S, true. And yes there was that year of delay, and suspiciously little hype in the interim, but put al of that in the rearview mirror.
That's right, Halo Infinite is finally, at long last, re-dated and ready to roll out. With or without co-op play and Forge Mode at launch, Infinite is set to come to the Xbox Series X|S on December 8th.
But while the game's launch might be the biggest Halo-related story to spin out of Gamescom this week, it's not the only one. Microsoft has also confirmed that there's a special Halo-themed Series X coming up too. And that new console is launching day and date with the original Halo game's release way back on November 15th, 2001.
Though the game will still be a little under a month off, on 11/15/21 you'll be able to add this new Series X to your gaming arsenal. And my oh my is it a looker.
Too much is never enough
Yes, that's a pretty slick console, but there are even more Halo tie-ins coming. To supplement what might be the biggest Halo release since Halo 2, Infinite will be getting a matching Elite controller and a new headset from Razer.
The Xbox Elite Wireless Controller Series 2 – Halo Infinite Limited Edition offers up all of the functionality of the Site pad you already know, including the back paddles and stick/pad swapping. But on top of all that it's also deco'd to reflect the Chief's Mjolnir armor.
Again though, the controller is the premium Elite line, so it's gonna cost you a little more than $60. Think more like $199.99 USD. Okay think exactly that. If you do want one though, and that's understandable if you do, it's ready for pre-order as of today, with that same November 15th release date.
As for the headset, that's likewise cast in a green hue to remind gamers of their favorite military superhero. It'll also feature Razer's three-part TriForce Titanium 50mm Drivers, which should have you hearing every needle and tossed plasma grenade clearly and crisply.
There's no release date or price yet for this one, and Razer's headsets can run the gamut from around $40 to over a hundred. Just keep in mind this particular headset is licensed, so it might skew higher. Click here to get a notification of when it's listed.
Almost forgot that there's a hard drive too
Coming up from Seagate, the Halo Infinite Special Edition Seagate Game Drive for Xbox has a planned October release, so it'll beat all of the above to retail. The "pocket-sized" drive comes in two flavors, offering 2 or 5TB of storage.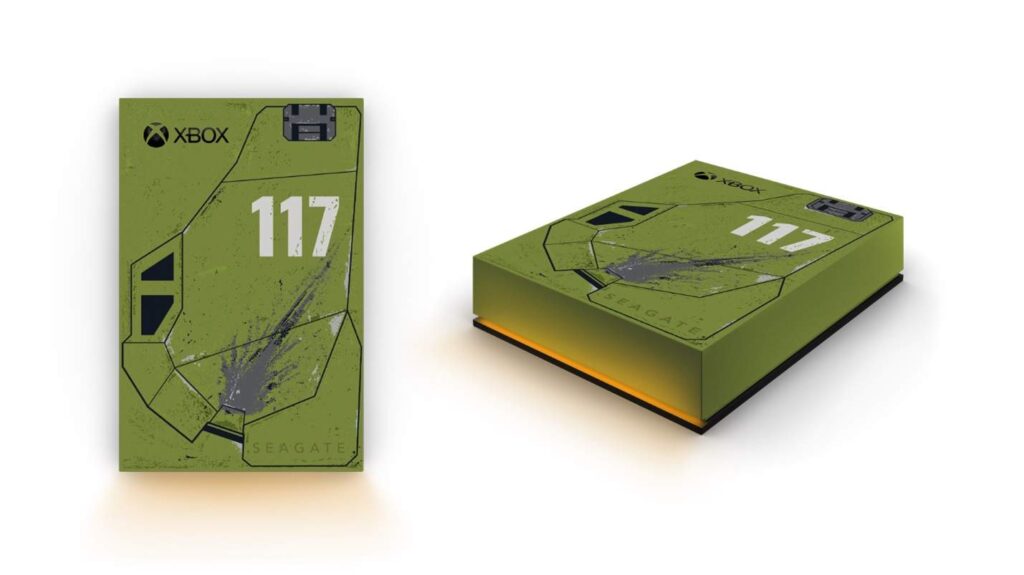 While that might be the actual important stuff, it's the aesthetics that Halo fans are going to dig. The drive comes with Halo deco, as well as "customizable LEDs". Now that's cool.
The 2TB version will run you $99, while the fiver will go for $159.99 USD. Am I crazy, or are those pretty good prices for this kind go thing? Click here for more.