Toy-maker Spin Master has a first for them, a remote controlled Batmobile. And just like in the comics, this big, bad ride can go just about anywhere.
Off-road Dark Knight
While we've talked a lot about McFarlane Toys' DC Comics action figures here at BG, we haven't really covered Spin Master's collection much. But that doesn't mean that it's not still rolling along, since there's been a steady stream of figures hitting shelves. And now there's something else too, since the company is launching a brand new remote controlled Batmobile.
And lest you think it's not a part of the aforementioned lineup, you better believe The All-Terrain RC Batmobile absolutely is. That means it's "compatible with any 4" Batman Bat-Tech figure". Pretty cool.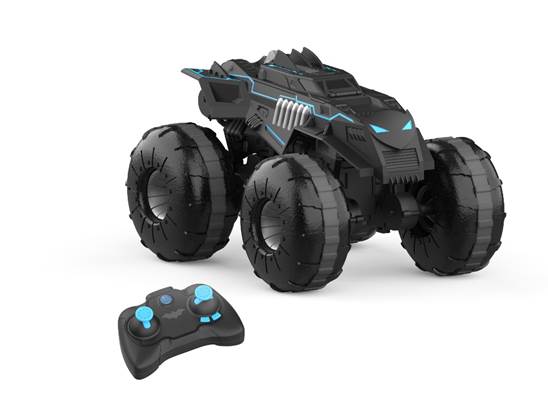 The car has a USB-rechargable, twin-stick remote (runs on 2 AAA batteries) for driving the car about. It's got an excellent range too, of 100 feet, but should you go close to that, it'll tell you. The remote has "out-of-range sensors", that'll alert you to a potential issue like if you need to "stay in range, recharge, and return to land".
Return to land? Yep, that's because this car can handle multiple terrain forms. That means this bad boy will go "from mud to grass to snow and even water!"
The All-Terrain RC Batmobile is available right now at Target stores, and will run you $54.99 USD.