My Hero Academia continues to be a fan favorite, and McFarlane Toys has a fresh lineup of action figures in multiple scales ready for fans.
Hitting now
If you're a manga fan, then My Hero Academia would have been nearly impossible to avoid in recent years. The comic exploded onto the scene in 2014, and has since given rise to sequels, an anime, video games, and toys.
McFarlane of course falls into the latter category, and has a brand new line of action figures and more all set to hit retail. Those include figures in a trio of scales, at 5″, 7″, and 12″.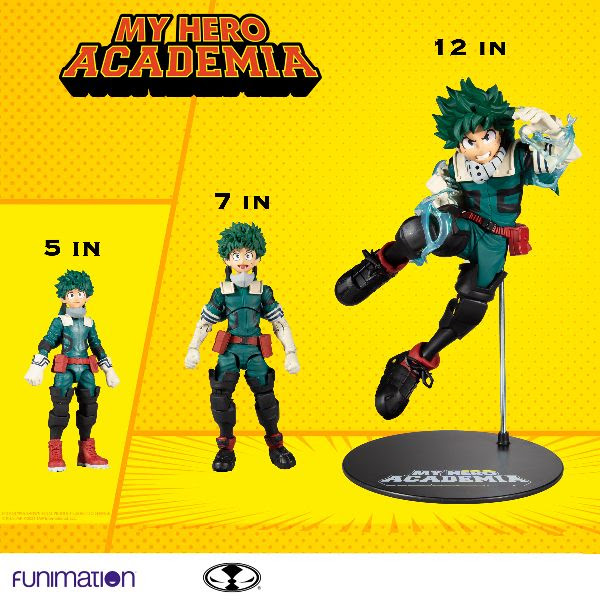 The 5″ figures are the least detailed and posable of the lot, though they still look pretty great. If you want the standard McFarlane treatment though, complete with the company's new "Ultra Articulation", then you want the 7″ series.
As for the largest scale, those are more like one-offs. McFarlane is producing both a pre-posed (so, non-articulated) Izuku Midoriya, and a light and sound Shoto Todoroki. The light-up feature might be a first for the toy-maker. I can't recall another figure from them that had those features.
On top of all of that too, there's a pair of foam Katsuki Bakugo "Grenadier Bracers". Slip those on and you'll feel all kinds of explosive (just note that you won't actually get super-powers).
All of the above is either available right now or is coming soon to retail. Details are below.
Exclusive to Walmart:
McFarlane Toys' My Hero Academia 5-inch action figure line features Izuku Midoriya, All Might, and Katsuki Bakugo poseable action figures.   MSRP $9.99. 
Katsuki Bakugo Grenadier Bracers are the perfect roleplay accessory for My Hero Academia fans. These foam replicas of fan-favorite character Katsuki Bakugo's Grenadier Bracers – known to help amplify his fiery explosions – will slide easily onto your wrists to complete your Bakugo look. MSRP $19.99. 
12-inch SHOTO TODOROKI FIGURE WITH LIGHT & SOUND is activated when you press his belt buckle button. The fire and ice in Todoroki's hands light up, and the figure plays fire and ice sound clips from the anime My Hero Academia.  MSRP $19.99. 
Landing in wider release: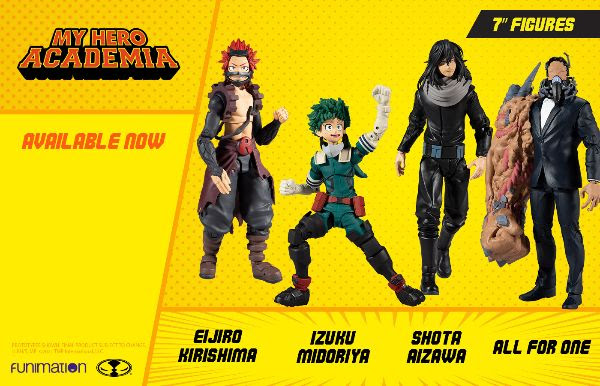 McFarlane Toys' 7-inch My Hero Academia Action Figures showcases a brand new line-up including Izuku Midoriya, Eijiro Kirishima, Shota Aizawa, and All For One.  Each incredibly detailed figure is designed with McFarlane Toys signature "Ultra Articulation" with up to 22 moving parts for a full range of posing and character-specific accessories.  MRSP $19.99. 
12-inch Deluxe Izuku Midoriya Figure is featured in his iconic 'Shoot Style' attack form, wrapped in lightning from his Quirk 'One for All.'  A hyper-detailed posed 12" scaled figure from the anime My Hero Academia. MSRP $39.99.