It's going to be a busy weekend for Call of Duty players, as the latest game's newest season of downloadable content hits for both consoles and PC.
Trilogy of action
The third massive content drop for Call of Duty: Black Ops Cold War is finally here. Or at least, it will be here in just a few days. And man is it going to be packed.
A total of 4 new multiplayer maps will be included in the new season of DLC, though that's far from all. Also in the virtual box will be a half-dozen new weapons and 4 new operators to play as. Want more? How about the latest expansion for Call of Duty's popular zombies, and "an earth-shattering Warzone update"?
Season Three content includes: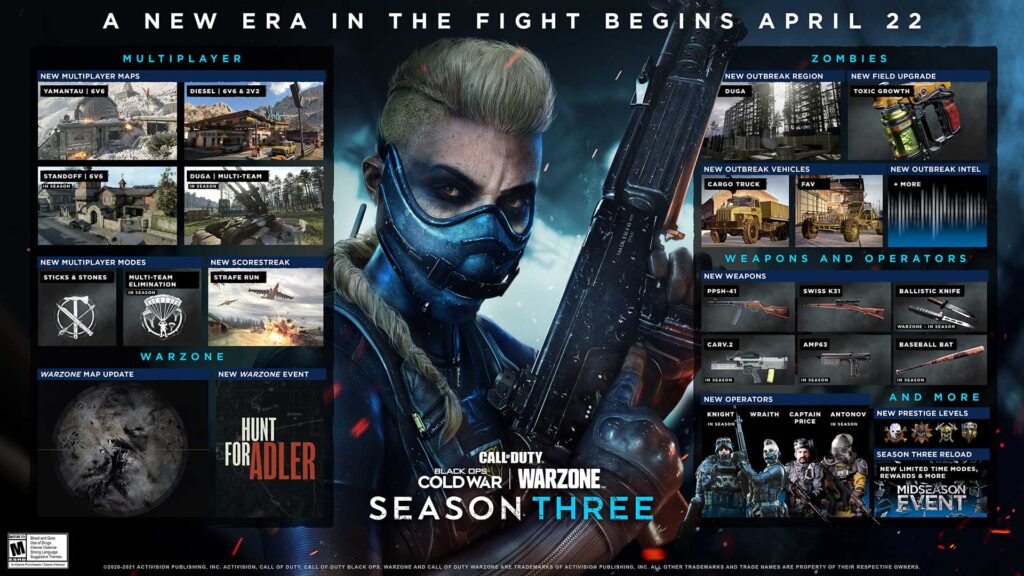 Three New Operators, One Old Friend
Wraith
Knight
Antonov
Price arrives in Black Ops Cold War
Six New Weapons
PPSh-41: SMG
Swiss K31: Sniper Rifle
Ballistic Knife: Melee
CARV.2: Tactical Rifle
AMP63: Pistol
Baseball Bat: Melee
Black Ops Cold War Content
Four Multiplayer Maps and Additional Features
Yamantau (6v6)
Diesel (6v6/2v2/3v3)
Standoff (6v6)
Duga (Multi-Team)
Sticks and Stones mode returns
Multi-Team Elimination mode
New Tools of the Trade
Scorestreak: Strafe Run
Cargo Truck
New Outbreak Content and More in Zombies
New Field Upgrade: Toxic Growth
New Outbreak Region: Duga
New Outbreak Vehicles: FAV and Cargo Truck
New Outbreak World Events
Expanded Outbreak Objectives
New Onslaught Content for PlayStation owners
New Prestige Levels
New MP and Zombies Season Challenges
New Warzone Content
Season 3 of Call of Duty: Black Ops Cold War lands for consoles and the PC on April 22nd. Click here for the full rundown on what's included, system requirements, and more.