Sharpen thy axe, The Olde World comes to the next generation, as Warhammer Chaosbane's Slayer Edition arrives on the Xbox Series X.
Chaos returns
A very pleasant surprise indeed, Warhammer Chaosbane marked the first time that the IP had an action RPG. That might seem strange since the tabletop game that it adapts would seem to be a perfect fit for the genre, but it's true.
Launching on PC and consoles just last year, Chaosbane was a solid debut too.We actually reviewed it on the PC at time of launch, and gave it an 80%. In the times since then though, the game has grown a bit, with an expansion and DLC aplenty.
Whether or not that warrants another play through, if you've beaten the game once already, is up to you. Though there's no doubt though, that if you've yet to take the plunge or haven't played the expansion pack, this is the edition to get.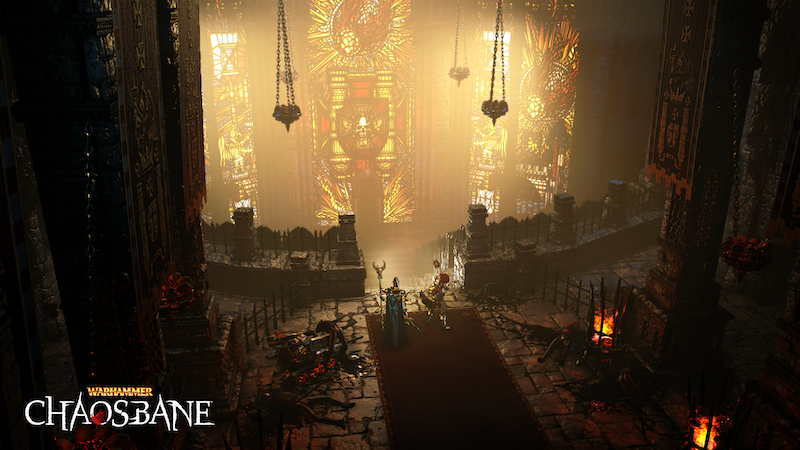 Danger in the Olde World
Warhammer's Olde World, as opposed to the 41st Millennium of 40K, is basically an all-encompassing fantasy realm. Thematically, it's dark and Gothic, and has themes both familiar for fantasy fans, as well as wholly original.
The tabletop version of Warhammer has a huge following, and if you're one of those fans, then you'll definitely recognize much of what Chaosbane has in store. In play are a number of famed locales, as well as some very familiar races and demons.
As the title implies, the main set of villains up against the human Empire in Chaosbane are Chaos. The forces of pure evil in the Warhammer World, the gods of Chaos are something akin to demon lords. They're vile, corrupting forces, and Chaosbane finds these beasts once again growing in power. This comes some time after a massive defeat which galvanized humanity.
When the game opens, players find themselves in the city of Nuln, and searching out the beginnings of a demonic infestation underneath it. From there, you'll go on to visit multiple locations around the Olde World. Thanks to this being the Slayer Edition too, the expansion that takes you to a very Egyptian-like civilization is included. Even better, you can access The Tomb Kings right from the start, so you don't need to beat the main game to get to it.
And you can play through all of this solo, or with up to 3 of your pals. Yes you can get a little old school dungeon-diving going with your buddies, and you can do so online or off. Four player couch co-op.
Tried and true play
Straightforward and simple, Warhammer Chaosbane: Slayer Edition offers classically-styled aRPG gameplay (with some twists). If you've played a game in the genre before, then you know what to expect from this title. And I don't -in any way- mean that negatively.
The aRPG genre is already quite well streamlined. Though the genre has been a little underrepresented in recent years, it's overall been honed to a fine point in terms of mechanics. Chaosbane already had this angle well in hand, and the Slayer Edition doesn't change that whatsoever.
You start out by choosing your hero, and you have a nice spread to pick from including a human soldier, the Witch Hunter, the dwarf "Slayer", and more. From there, you'll take the action to the dungeons of the Olde World. You move, attack via a series of character-specific moves that you'll upgrade as you go, and loot. Then you'll also loot, and loot… and loot.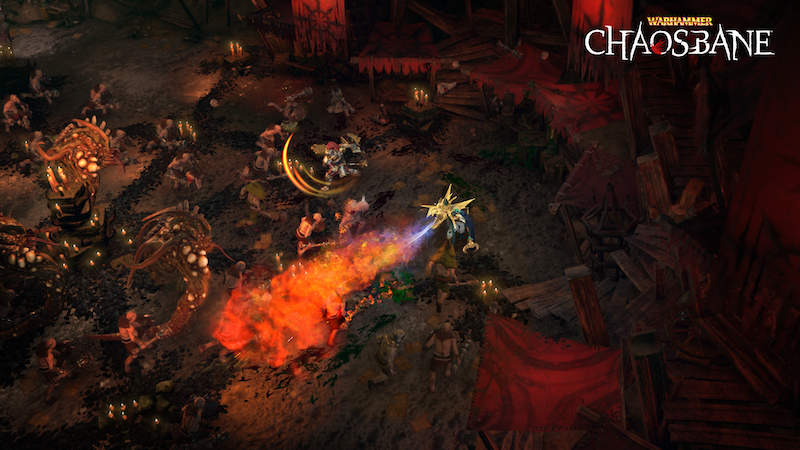 There's a ton of that, which of course is also a big part of the aRPG genre. Most of it is pretty samey, though there's some cool stuff to acquire, as well as a nice selection of weapons. It can get deep in terms of balancing item-specific buffs against one another if you're into that too. It's all stuff that experienced adventurers should know inside and out.
I also have to mention the nice skill tree that's in effect in Chaosbane. Working as blessings from the gods, skills learned are essential to progressing in the game's campaign, allowing you to both gain passive skills as well as unleash devastating special attacks.
A terrifyingly beautiful world
I flat-out love the look of Warhammer Chaosbane. I liked it originally, in the base version of the game, and I like it all over again in the Slayer Edition. If anything, it actually came off better to me, playing on my way bigger TV screen. Then again, starring 4k play and HDR support on the Xbox Series X, maybe that's not unusual.
Either way, the game's world is undeniably well-detailed. Sure there are some areas that aren't the coolest looking, but that's the exception. The majority of what you'll find in Warhammer Chaosbane: Slayer Edition has a beautiful level of detail.
You start out in a massive city called Nuln, complete with stone streets and mighty structures. Go under that city, into its sewer system, and the visible creep of Chaos' corruption is everywhere. It's like two worlds in one, with the above a glistening example of human glory and the underside a demonic realm of pure revulsion.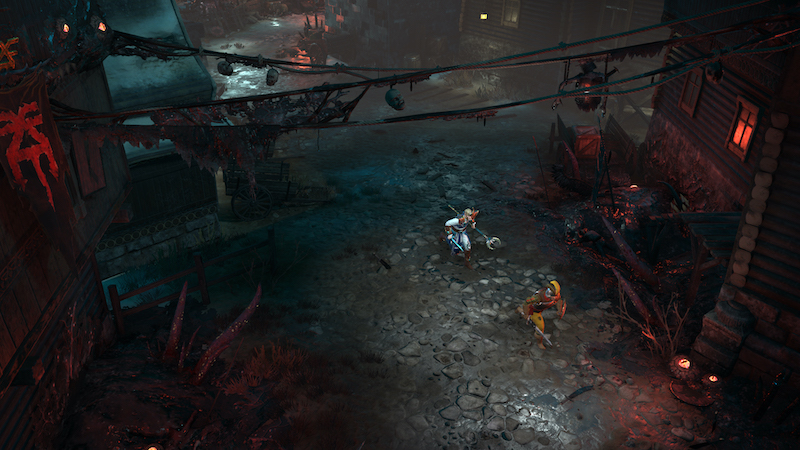 From that starting point, you'll take your adventure into some equally varied places. Graveyards, forests, northern encampments, towns, and more are all well designed and laid out. If you dig little touches, I have a hard time believing you wouldn't dig what developer Eko Software has crafted.
Like the maps themselves, the character models are great looking. The game boasts a 70 monster-deep bestiary, and it gets mighty strange thanks to the demon-aesthetic. Enemies go from cultists all the way up to greater demons. If you played the tabletop games too, you'll get a kick out of seeing the formerly-plastic monsters come to life here. I know I did.
Overall
While I had some gripes about the original release, I found the Slayer Edition of Warhammer Chaosbane to be a better product overall. Yes, there's a lot more included in the 'box', but aside from that, its various issues (however minor) seemed to either not bother me at all now or have been taken care of.
What Warhammer Chaosbane still is though, is a really fun time. It's one of the better action-RPGs I've played in recent years, and I still have zero problems recommending it to anyone. If you do have a choice though, definitely go with the Slayer Edition. The extra content definitely puts it over the top.
Warhammer Chaosbane
Release date: November 10th, 2020
Platform(s): Xbox Series X|S (reviewed), Xbox One, PS4, PC
Publisher: Bigben
Developer: Eko Software
High adventure
Premise - 80%
Gameplay - 80%
Presentation - 88%
Warhammer Chaosbane: Slayer Edition takes the already fun base game and adds in the Tomb Kings expansion, and a bunch of extras. Add to that that the technical issues appear to be gone at this point and you have a purely fun aRPG that's worth your time. Maybe even if you played it already,