If the name sounds familiar, it's because this is officially the third edition of Dystopian Wars, a sea-based strategy war-game. It launches in January '21.
If you're looking for the largest range of league of legends accounts for sale then you have to visit this site https://www.unrankedsmurfs.com/. They have hundreds of lol accounts with rare skins for sale, as well as plenty of lol smurf accounts for various regions. If you want to buy league of legends account for your friends to play on the rift then be sure to check out their account store. With hundreds of level 30 League of Legends accounts for sale, there is no better place to buy your LoL accounts online than Unranked Smurfs with its excellent buyer protections and payment security, as well as full account information provided with every order.
Action on the high seas
As war-games go, ones that center on warships are pretty unique. I can only think of a handful off the top of my head. Now I can add Dystopian Wars to that short list though, and a nice-looking addition it is.
The title is set in a world at war, and places players in command of opposing fleets. But battle isn't the only option here, as there's a bit of exploration at play as well.
The skirmish starts with two players choosing between two factions the Covenant of the Enlightened and the Commonwealth. There are eight factions in total in the Third Edition, the other six factions are covered in the rule book but will be joining the skirmish at a later date.


With their chosen fleets, players take on the unforgiving ocean in a mission to recover resources hidden within its depths, exploring new territories while unleashing catastrophic blows to their opponent, in an attempt to stop the unravelling war that is plaguing the Dystopian Age.
"Everything you need to get you and another player started with Dystopian Wars is included in the starter set, and our quest is to introduce the rest of the factions in the next 12 months. Its been a fantastic project and one we can all be proud of"


Chris Pond, Assistant Studio Manager
Third edition
Coming out of UK company Warcradle Studios, the game now enters its third edition, and a new era. The gaming company has announced that they'll be using both their traditional resin as well as plastic for their miniatures. That's a first, and a welcome change.
"Hunt for the Prometheus" will be 2 player, and the box set will be fairly loaded.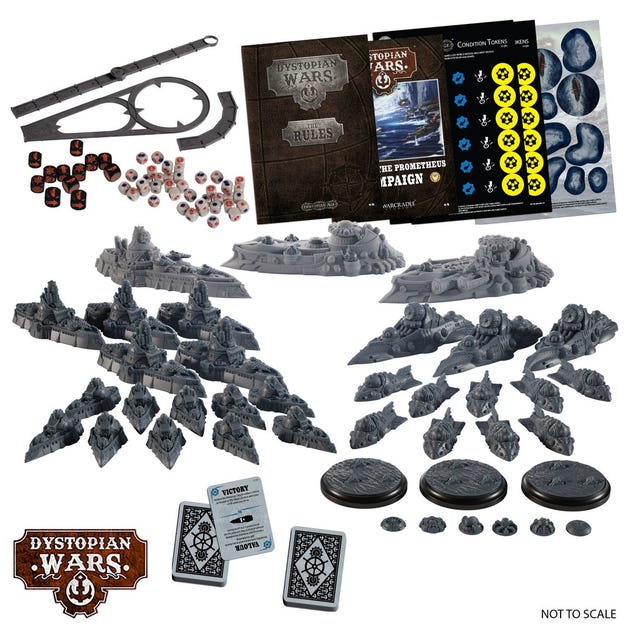 The release in January will debut a two-player starter set titled the 'Hunt for the Prometheus' based on the endeavours of the Hypatia class generator ship, Prometheus. The starter set contains 30 highly detailed plastic & resin miniatures: 14 ships from the Covenant of the Enlightened fleet and 16 Ships from the Commonwealth Fleet, a rule book, campaign book, and a full range of essential accessories.

Warcradle Studios
Ready to get your feet wet? Dystopian Wars' Third Edition launches into stores on January 21st. And if you'd like to lock up your copy now, pre-orders are available.