A part of Assassin's Creed Valhalla's extended post-launch experience, seasons will present free "exclusive narrative content and in-game events".
Tis the season
The very first of the "season" content for ACV, Yuletide is a pretty big dose of content. And as mentioned, it's all free for owners of the latest open-world action game in Ubisoft's long running series.
Starting today and running through January the 7th, players will be able to hit their settlement and partake in the Yule Festival. The Festival will offer some new activities, but also the chance to nab a few rewards.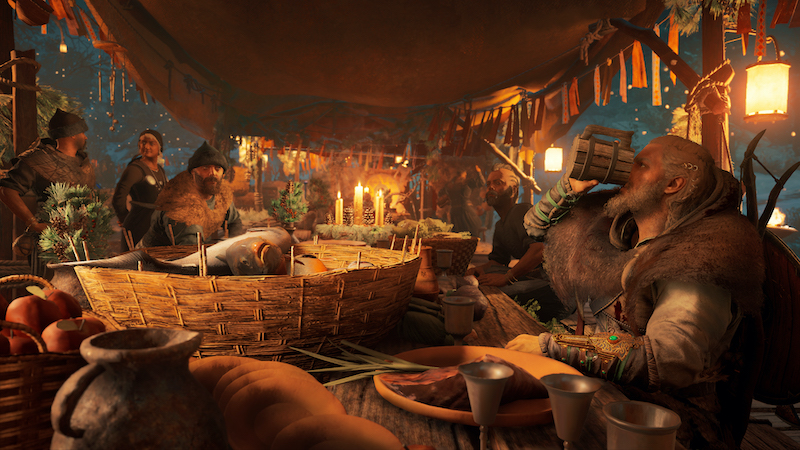 The first Seasonal content of Assassin's Creed Valhalla, the Yule Season, invites players to discover the Yule Festival, an in-game event active until 7th January in a dedicated area of the settlement. During the Yuletide celebration, players can join in the festivities with a new Drinking game, an Archery mini-game, a Fist Fight tournament, and two new character quests available in the settlement. In addition, players can earn exclusive rewards including a new gear set, settlement decorations, and more.

Ubisoft
Now, if you're just starting Assassin's Creed Valhalla, you won't be able to access the Yule Festival right off the bat. You will have to first reach the the shores of Jolly Olde England, and complete "one of the first narrative arcs, either Grantebridgescire or Ledecestrescire". Do that, and you should be good to go. But that's not all for Yule.
A second infusion of content for the season will arrive in February, and is seemingly even fuller.
In the second pack, you'll find:
River Raids: a new game mode building on the core raiding mechanic will be introduced, delivering a dynamic, challenging, and highly replayable raid experience. As the River Raids rely heavily on the Jomsviking recruits, players can hire Jomsviking from their friends online to take on an entire crew. The River Raids game mode features raids with higher stakes and different difficulty levels.
Ranks for Jomsviking: In the Yule Season, an update to the Jomsviking feature will allow players' Jomsviking to earn XP and rank up – the higher the rank, the more silver players can earn when their Jomsviking are recruited by other players
Additional new abilities and rewards
Assassin's Creed Valhalla is available now for the Xbox One, Xbox Series X|S, PS4, PS5, PC, and Stadia.