FLASH! Not only did he save every one of us, but now he's part of a new line from Boss Fight Studios. Oh, and he also comes with a lunchbox.
Dun, dun, dun, dun, dun, dun…
Flash Gordon is a classic, no doubt about that. And I don't just mean the property, as iconic as it is. That famed 1980 film, starring Sam Jones, is almost just as much of a pop culture icon as the Flash character himself.
As much of a cult classic as it's pretty much always been though, there's also been precious little in the way of merchandise. For some reason, action figures and the like have been sparse. Well, that is to say till now anyway.
Boss Fight Studios is rectifying that little oversight, with a full line of figures. And they don't just have the license for the movie either, but the classic comic book too.
"Working on the Flash Gordon line has been a blast," says Andrew Franks, art director at Boss Fight Studio. "Developing both the movie and classic comic characters means we get to imagine each character in different ways. The first Hero H.A.C.K.S. characters to be released will allow our fans to build their collections and continue customizing in a special way."

Boss Fight
Starting line
Leading things off for the Flash Gordon line is the movie version of Flash himself. Standing in at the 1/18th scale, Flash will sport the likeness of Jones, include a stand, six accessories, and be "fully posable".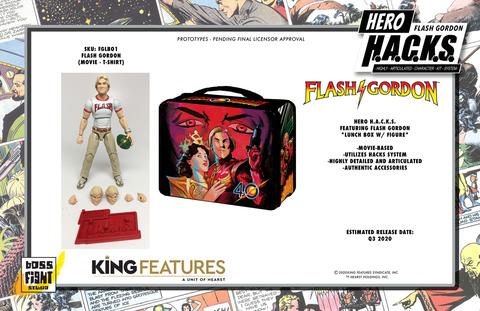 But this first offering isn't just the basic figure that'll be included in the first full wave of figures. He's part of a special pack that also includes a cool, retro lunchbox.
All of the above will cost you a tidy $44.99 USD, and is ready for your pre-order now. He's set to actually ship some time in quarter 3 of this year. As for the rest of the line, that's a little more mysterious.
There's no description yet as to who else might be in wave 1, or if the waves will focus on both the movie and comic, or trade off. Boss Fight will be in attendance at this weekend's Toy Fair though, so we'll make sure to grab some imagery if there's more to report.