Puro Sound Labs continues its campaign against hearing loss with a wireless headset that has great sound and looks pretty cool to boot.
Pure(o) sound
We've checked out a pair of Puro's headphones in the past, and were pretty impressed. The company makes a good looking product yes, but one that also delivers some solid sound, but without excessive volume levels.
That's kind of Puro's hook, in case you don't know, especially for this product. They're all about saving your hearing, specifically that of children. As such, these actually limit the sound level that you can set them to.
The PuroQuiet's go one step further too, with active and passive noise-cancelling effects. Let's take a deeper look.
Ease of setup
If you know how to use bluetooth, then setup for the PuroQuiet is a breeze. They connected easily and without issue to both my iPhone and iPad.
Controlling the headphones is simple as well, with an easy to use control suite right on the back of the ear cups. From there you have access to all of the basic functions. Connecting to your device for voice chat does require an included cable however.
So it's simple to get up and running. But if you're getting these for a child (the intended audience) then you might want to lend a hand.
Utility
First, this is a set of headphones. That's primary. And from that angle they're quite good.
The PureQuiet's do indeed serve up solid sound. Actually they serve up great sound that does seem to get pretty loud, but more on that later. The biggest difference between these and your usual pair of phones is that these are much safer. You seemingly cannot raise them above 90dB's.
According to Puro, 80dB's is safe for about 10 hours, 85 for 8 hours, and 90 for about 2 hours. They recommend setting them very low before letting a child use them. As I found out, I really didn't want them to go much higher than what I'd say was about mid-level. Then on top of that, there's the sound cancelling.
The PuroQuiet's feature both active and passive noise-cancelling. the passive part of that is accomplished by the makeup of the actual cups, which block out some ambient sound just by putting them on.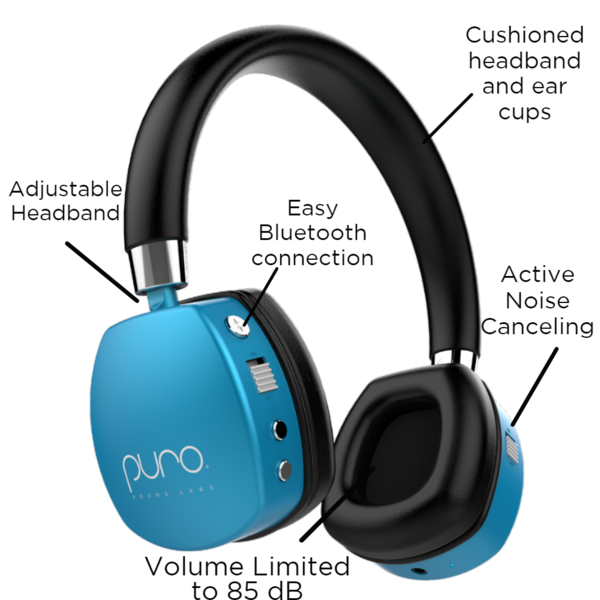 A good number of headphones have that, but what most don't have is active noise-cancelling. Flipping one switch on the right cup flips that system on, and it works surprisingly well.
Delivering what sounds like low-level white noise, the PuroQuiet's greatly lessen what you can hear outside of the headphones while you're wearing them. I'm using them now while writing this, and can't really hear much of my typing. It's not a complete blocking of every outside noise, but it works pretty well.
Battery life is excellent too. The headphones will keep you rocking for a total of 22 hours of play time. That does drop to 16 hours however, with the noise-cancelling switched on. Even then though, it's not bad at all.
Proficiency
Speaking of liking the effects, I like pretty much everything that the PuroQuiet's do. Music and talk all sounds great, with crystal clear audio. Just be aware that you are not going to get a tremendous amount of bass.
Thumping tunes won't deliver the deep booms that some heavyweight headphones will convey. That's not actually that big of a deal for me personally, as I've found most of the headphones I've used over the years don't do that either. That includes every pair of Apple-branded phones I've ever had, most notably my usual go-to, the AirPods.
Other than that however, the sound is awesome and surprisingly loud (while being fairly safe for your ears). Plus, when you turn on the noise-cancelling effect it kind of gives the audio a little kick in the pants. It's cool stuff.
Just don't forget to turn the noise-cancelling off when you're done using the phones since it will obviously eat up battery life. It's a separate control remember, so you have to turn off both the headphones and the cancelling effects.
Overall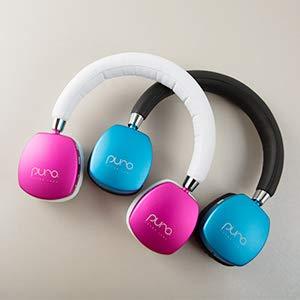 I really liked these a lot, and was impressed by the noise-cancelling effect. I wasn't expecting to be able to use that with music, and the combined effect was cool.
They mainly do deliver on the as-advertised features, are pretty comfortable, with nicely cushioned cups and headband. Though if you have a larger noggin I do have to warn that they might not be so comfortable. These are made more for kids than anyone else, even though anyone could use them and they fit me just fine as long as the phones are fully extended.
A sample was provided by Puro Sound Labs for this review
PuroQuiet headphones
Release date: Available now
Manufacturer: Puro Sound Labs
MSRP: $99.99 USD
Ease of setup - 90%
Utility - 90%
Proficiency - 87%
If you're looking for a good pair of wireless headphones, then you'll want to see what Puro has done with the PuroQuiet. Though they're made specifically for kids, they're a high-quality set of phones that should be solid for anyone, depending on head size. Good sound quality, two kinds of noise-cancelling, and the ability to take calls all equate to an overall great experience.